CASP is an official partner in India for 7000 HUMANS, a global community network that connects to 7000 Oaks, one of Joseph Beuys' (a founder of Fluxus) most beloved social sculpture works.

A collaboration between social artist and cultural activist, Shelley Sacks, and permaculture designer, Ulrike Oemisch, 7000 HUMANS is an initiative of the global Social Sculpture Lab for New Knowledge and an Eco-Social Future.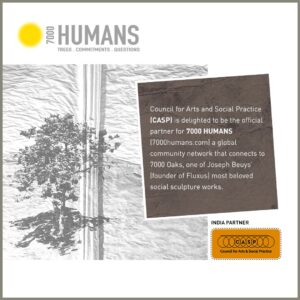 It grew out of the Kassel21-Social Sculpture Lab curated by Shelley Sacks and hosted by the documenta Archive & the Neue Galerie for the Joseph Beuys 100 celebrations. Launched in September 2021, it coincides with the 40th Anniversary of the 7000 Oaks in Kassel, and is part of the zukunftsdorf22 linked to documenta 15, 2022.
CASP has been an invited 7000 HUMANS participant from April 2022 and offers reflections from its collaborative project, '
From Up There They Were Just Numbers
' (2019-Ongoing) in Navi Mumbai. As the India partner in this initiative, CASP offers its role as a 'multiplier' through local assemblies that engage with questions and commitments of future living explored in the global assemblies of 7000 HUMANS and other questions related to our own context.
Our association with Shelley Sacks began from our participation in two interconnected projects by the artist University of Trees (UoT) and Earth Forum in 2013. Over the years, our sharing of ideas has continued and it is an honour to join as a new partner of 7000 Humans responding to the Social Sculpture Lab's "connective practice approach" and insights involving active listening, imaginal thinking-together processes and co-creating with a global community network.
WHO IS 7000 HUMANS FOR?
It is for everyone – individuals, networks, communities, and groups – committed to working toward an interconnected, humane, anti-racist, non-exploitative and ecologically healthy future; a society in which people come together to work creatively with problems; to strengthen their commitment to cooperation and care, and to envision a future in which imagination and the sphere of the soul has a central place.
7000 HUMANS brings together diverse networks, individuals, communities, and projects – big and small – from all continents, to explore the role of the human being on this planet as a conscious partner of the 'other-than- human' world. It is co-creating a global field of commitment, presence, action, and insight – on the ground, in the soul and online.
You are invited as an individual, project, group or network to become a 7000 HUMANS participant here: ENTER THE FIELD. Participants can register and get your 'sun' on the global map, and access its activities.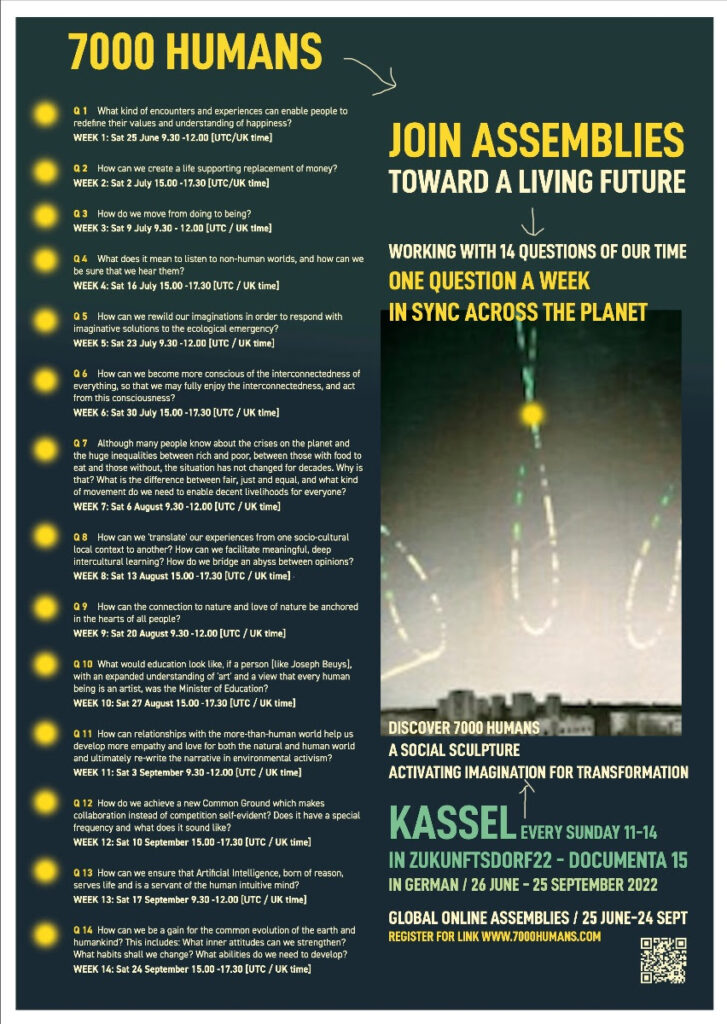 The 7000 HUMANS 1.0 online global assemblies took place from June 25-September 24, 2022, which involved working with 14 questions of our time, with each question explored every week. CASP participated in these forums and organized two local assemblies in India in its Navi Mumbai and Kolkata chapters. These two assemblies coincided with the questions of Week 11 and Week 14 of the global assemblies, responding to them in our local contexts. (7000humans.com/working-with-questions)
7000 Humans | Week 11 Question
"How can relationships with the more-than-human world help us develop more empathy and love for both the natural and human world and ultimately re-write the narrative in environmental activism?"
7000 Humans | Week 14 Question
"How can we be a gain for the common evolution of the earth and humankind? This includes: What inner attitudes can we strengthen? What habits shall we change? What abilities do we need to develop?"
LOCAL ASSEMBLIES | NAVI MUMBAI & KOLKATA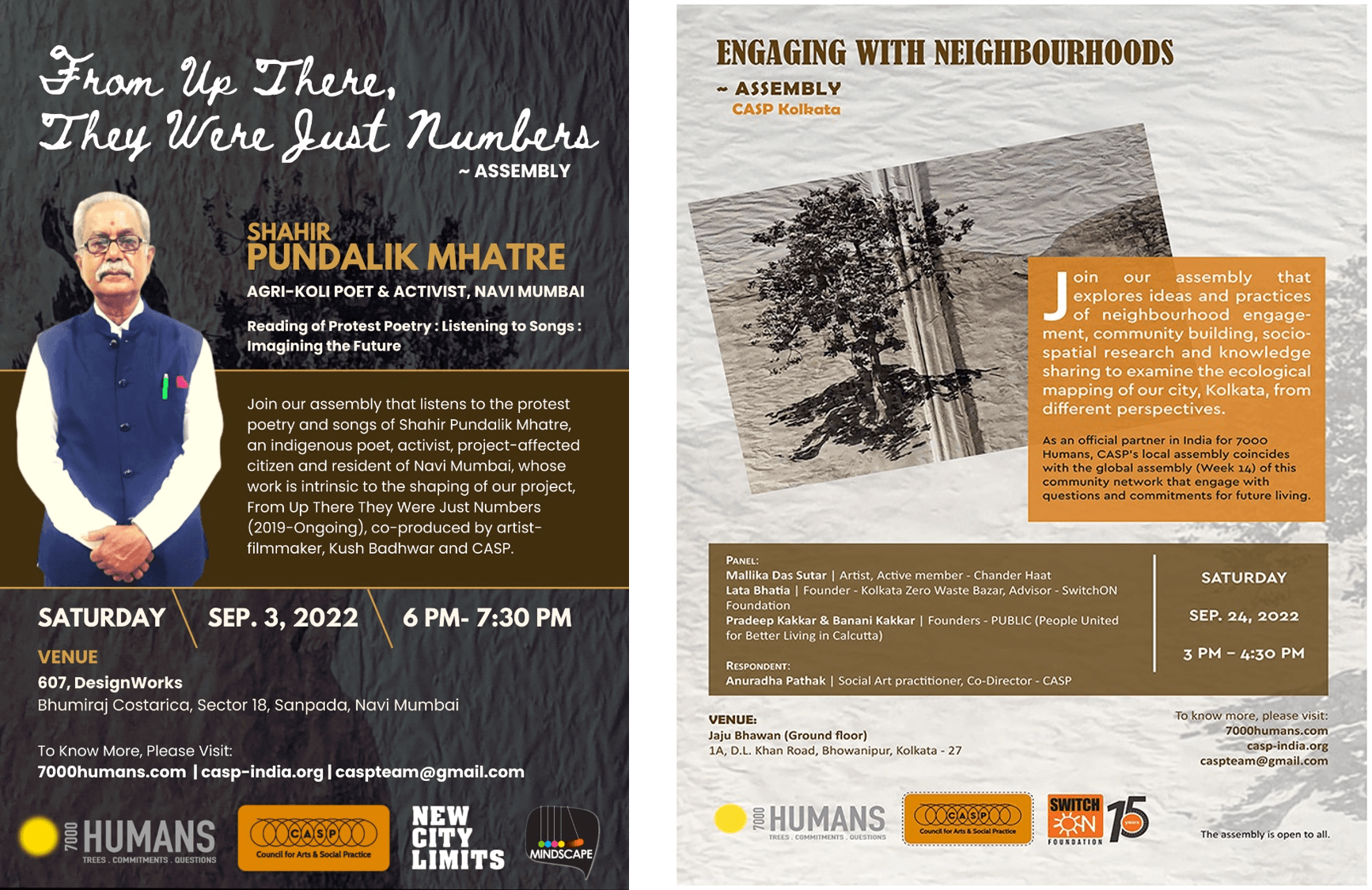 CASP organized the first local assembly at Sanpada, Navi Mumbai. Anchoring reflections from our site-responsive collaborative project, 'From Up There They Were Just Numbers' (2019-Ongoing) at 7000 HUMANS, we invited Shahir Pundalik Mhatre, an indigenous poet, activist, project-affected citizen and resident of Ulwe, Navi Mumbai, to present his protest poetry and songs in this assembly. Framing the erasure of the Ulwe Hill, the recoursing of two rivers, the destruction of wetlands and displacement of 4500 families from 10 villages due to the making of Navi Mumbai International Airport, we collaborated with local collectives in Navi Mumbai, New City Limits and Mindscape, and other practitioners who deeply reflect on ecological issues, ideas of neighbourhood, and critical methodologies of the arts and urbanism in Navi Mumbai.
The assembly was held in Marathi, Hindi and English.
Respondents: Amrita Gupta (art historian and co-director, CASP), Nikhil Purohit (artist, poet, academician) and Anant Jain (artist, photographer, poet).
The second local assembly was organized in Kolkata, where we explored ideas and practices of neighbourhood engagement, community building, socio-spatial research and knowledge sharing to examine the ecological mapping of our city, Kolkata, from different perspectives. Collaborating with SwitchOn Foundation, an organization that has been reflecting on issues related to wetlands and its interconnecteness to the ecosystem of the city, the assembly explored ways, habits, and possible policies to preserve these crucial wetlands.  Mallika Das Sutar, an artist and active member of the collective, Chander Haat, shared her long term project on activating her neighbourhood with local urban farming practices, and Lata Bhatia, founder of Kolkata Zero Waste Bazar reflected on the issues of East Kolkata Wetlands.
The assembly was held in Bengali, Hindi and English.
Respondent: Anuradha Pathak (artist, designer and co-director, CASP).
7000 HUMANS 2.0 will launch in June 2023.