The Katkatha Puppet Arts Trust is a travelling puppet theatre group, a space for professional development of puppeteers and an arts in community research and development organisation. Established in 1998, it focuses on presenting visual narratives with objects and puppets, and in a synthesis of the plastic and performing arts.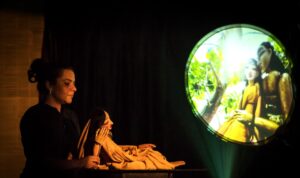 Over the last 25 years, Katkatha has created original productions and expanded the styles of puppetry through community practices and collaborations across disciplines – presenting Indian puppetry globally through festivals, workshops, training programs, applied puppetry, and developing professionalism within puppet theatre practice in India. In February 2023, Katkatha organized their first international puppet film festival, Puppetoscope, with the support of the French Institute in New Delhi.
In this presentation, Anurupa Roy will look at the application of puppetry at the grassroots level, and across health, educational and gender equality advocacy projects in Katkatha's 25 years of existence. What sets puppetry apart from the other arts, and what are its advantages and challenges? What are the critical questions of arts practices that link to education or advocacy and when is puppetry impactful and when not? Alongside, how have the collaborations and participants at the grassroots shaped Katkatha's work and arts practice will be discussed.
Anurupa Roy is a puppeteer, puppet theatre director, puppet designer, and the founder and managing trustee of The Katkatha Puppet Arts Trust. She has a Diploma in puppet theatre from the University of Stockholm, Sweden, and has been trained under Bruno Leone in traditional glove puppetry from the La Scoula Della Guaratelle in Naples, Italy. She has been a Researcher in Residence at the Deutsches Forum DFP in Bochum and at the Institute International de la Marionette Charleville- Mezieres in France, alongside being trained in puppetry with Neville Tranter at the Figurentheater Kolleg, Bochum, Germany.
She has directed over 25 puppet performances for Katkatha, TIE Company and the National School of Drama. Her work has received several accolades including India Foundation for the Arts grant (2006-2007), the Ustad Bismilla Khan Yuva Puraskar (2007) – a National Award for contribution to puppet theatre by the Sangeet Natak Akademi, Ministry of Culture, Aditya Birla Kalakiran Puraskar (2016), META for Best Director and Best Production for Mahabharata (2017) and the Shankar Nag Award for Theatre (2017). Anurupa Roy is considered a pioneering and creative force in reinventing Indian Puppetry.
Respondent: Amrita Gupta (Art Historian and Co-director at CASP).
September 29th, 2023 | 6.00 pm – 7.30 pm IST on Zoom | Open to all.