"From up there they were just numbers, down here, they're people." With these words starts the film City on the Water, written and directed by the architect Charles Correa, produced for CIDCO (City and Industrial Development Corporation) and the Government of Maharashtra by the Films Division in 1975.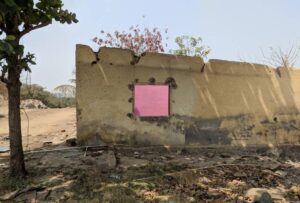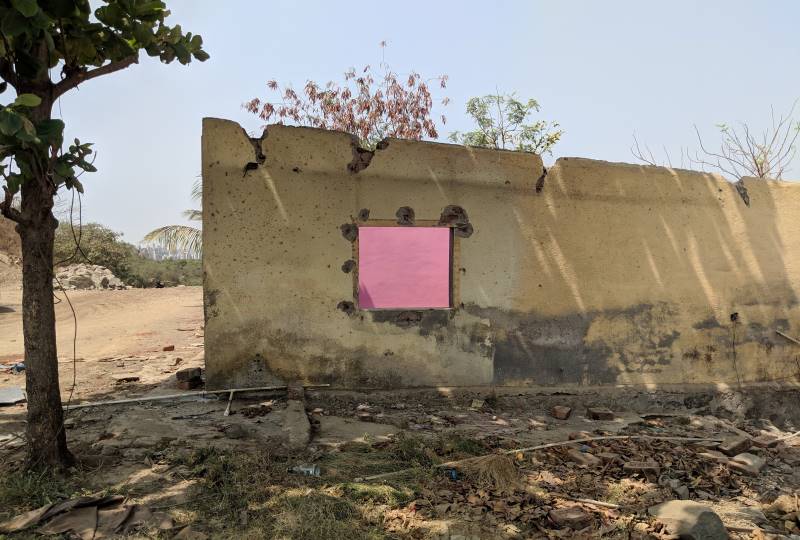 Like other Films Division films of the time, City on the Water was allotted a slot before feature films at cinemas. The agenda was clear: to convince viewers of the value of the city and to relocate from other parts of the state and country to New Bombay. And for decades, various actors in the marketplace have whispered about the Navi Mumbai International Airport which have contributed to the production of more new housing developments and the escalation of property prices in the area.
Navi Mumbai International Airport was proposed in 1997 and approved for development in 2007, to ease the pressure of Chhatrapati Shivaji Maharaj International Airport in Mumbai which runs to near capacity. While Correa, Mehta and Patel's original New Bombay proposition and plan displayed some sensitivity for and effort towards coexistence and codependence between the existing villages and nodes to be developed, Navi Mumbai International Airport represents a development that enacts the opposite, making it all the more vital for us as residents consider and work towards possibilities in living together in the future.
What are the implications of this project? Ulwe Hill, at 92 metres high, and part of the Western Ghats or the Sahyadri is being levelled, and its basalt rubble forms the base of the airport (Bridger, 2018),  2268 hectares of ecologically fragile and flood-prone coastal land have been designated for airport-related uses (Bridger, 2018). The Ulwe and Ghadi rivers are being diverted, 121 hectares of forest, 162 hectares of mangroves and 404 hectares of mudflats are being destroyed (Bridger, 2018). A mangrove sanctuary has been proposed, its location is yet to be determined. In a Bombay Natural History Society survey, 260 species of birds living in a 10-kilometre radius of the airport were identified (BNHS, 2015), the airport a risk to the birdlife and the birdlife a risk to planes.
4500 families from ten villages have or will be relocated, and crucial issues pertaining to the Project Affected People (PAP) remain. The inescapability of ecological damage to both human and non-human life at the airport site and beyond, and being built on swampy, flood-prone, and frequently waterlogged area have led to delays of government clearances. Alongside have been organized protests by communities from the ten affected villages demanding improved rehabilitation schemes; these are some of many factors that stalled the Navi Mumbai International Airport project since its approval. For those who have accepted the compensation, their rehabilitation has forced them into areas where traditional livelihoods cannot be practiced, nor have training for new skills been enhanced, or adequate school facilities provided for displaced children. Others continue to struggle with the politics of compensation and refuse to vacate their land, living amidst demolished debris that dominate their neighbourhoods.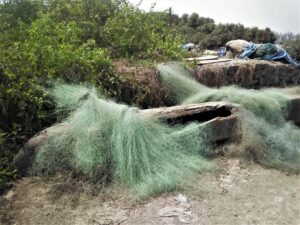 In October 2017, amidst construction challenges and with people still in their homes, massive earthworks preparing the site for construction of the airport began (Bridger, 2018), whose sounds and echoes it produces have been/are heard, received and understood in various ways, in the site, outside of the site in the surrounding villages, neighbourhoods and cities and further away too. As of December 2017, most of the site was underwater (Bridger, 2018) and this is also a common pattern during the monsoons in the subsequent years of airport construction. Inside and outside the site yield contrasting sonics and discourses. Outside of the site, advertising and street-corner conversations profess of the value the airport will bring to the area. Inside the site, various individuals and groups are active in the pursuit to have their voices heard – poetry is written and performed, ongoing working relationships and lingering gripes with members of the press and authorities have been developed over time, notices are printed and disseminated, meetings and organised protest take place.
As residents and practitioners of Navi Mumbai, artist-filmmaker Kush Badhwar and CASP (Navi Mumbai chapter) utilise their embedded positions as long-term residents in their access and perspective of the site. The project is specific, yet addresses wider anthropogenic and cultural sustainability concerns, related to the site itself, the area in which the residents live, and about similar developmental projects and situations elsewhere, thereby refracting the type of exchange an airport aims to facilitate with insight and criticality.
With the above context in mind, our research at the site took on the form of qualitative fieldnotes valued in the fields of ethnography and ecology, amongst others. This is transposed into the artistic field where notes have been made through walking, listening, photography, sound recording, site-specific drawings, conversations with affected villagers both at the site and on WhatsApp, and recording direct observations as they are being observed. This research form also involves absorbing the modalities of the airport site through the observer-participant method, bringing in descriptive, experiential and reflective perspectives, and opening out fieldnotes from an isolated practice to social practice.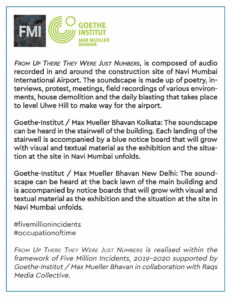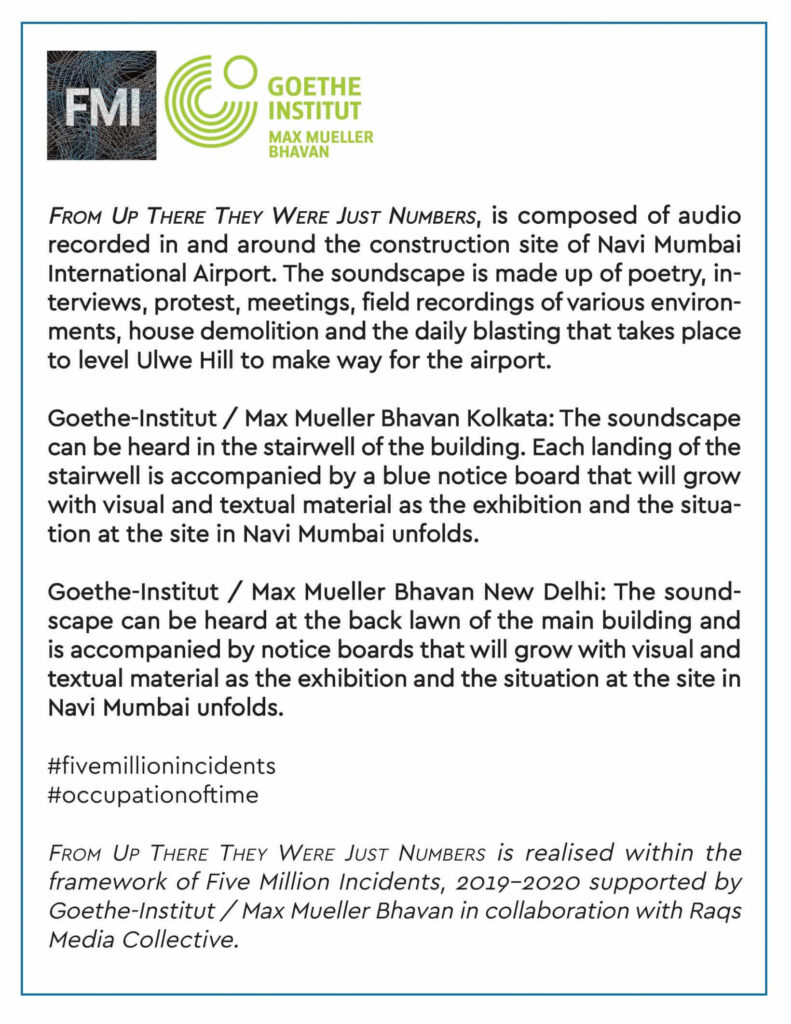 Our research-based project From Up There They Were Just Numbers takes its name from the opening lines of the film City on the Water and is realised in the framework of Five Million Incidents in 2019 conceived by the Goethe Institut/Max Mueller Bhavan Delhi and Kolkata, in collaboration with Raqs Media Collective. Our fieldwork from February to August 2019 has culminated into the creation of an aural and visual archive, components of which were exhibited as a soundscape engaging with the sonics of Ulwe Hill as a starting point to the context of Five Million Incidents as a proposition, period, formulation and framework. Accompanying the soundscape were photographs from the airport site collected on G-Drive, printed through an inkjet printer, and pasted on a courtyard wall and blue noticeboards at the Goethe Institut/Max Mueller Bhavan Delhi and Kolkata respectively, in the duration of the exhibition from September to December 2019.
From Up There They Were Just Numbers is an ongoing project and will take on a variety of forms by adding to our existing archive and future listening environments. We would like to listen to its echoes, with echoes being considered as associated and resultant incidents and the long-term ramifications of its removal, in and around the airport and exhibition sites. This would involve a continuation of engagement in our local area, further pursuing affinities, conversation, research and documentation with or amongst various groups and individuals, amongst others, alongside publications. An abiding question is: how do we hear and see the precarity of the situation, and most importantly, remember?
Acknowledgement: Pundalik Mhatre, an Agri poet, activist, project-affected citizen and community leader amongst project affected people, Ulwe Gaon, Navi Mumbai.
Research Fieldwork in Navi Mumbai: Kush Badhwar (Artist and Filmmaker), Amrita Gupta (Art Historian and Writer with CASP) and Anupam Singh (Artist and Educator with CASP).
Exhibition Ideation/Making at Goethe Institut/Max Mueller Bhavan, Kolkata and New Delhi:
Kush Badhwar (Artist and Filmmaker, Navi Mumbai), Amrita Gupta and Anupam Singh (CASP, Navi Mumbai), Anuradha Pathak (Artist and Graphic Designer with CASP, Kolkata), and Noopur Desai (Researcher and Writer with CASP, New Delhi).
Exhibition Assistance: Girisha Sethi (Architect and Researcher, New Delhi), Anchal Sayal (Graphic Designer, New Delhi) and Anirban Saha (Artist, Kolkata).
Notes:
Charles Correa, City on the Water, Films Division, 1975.
Bombay Natural History Society, Baseline Survey of Birds at the Proposed Navi Mumbai International Airport (NMIA), 2015.
Rose Bridger, Navi Mumbai Airport – Displacement and Destruction, Global Anti-Aerotropolis Movement, 2018.
Goethe Institut, From Up There They Were Just Numbers, 2019.
e-flux, Five Million Incidents, 2019.
Fieldnotes: February to August, 2019.
Exhibition: 5th September to 12th December, 2019 and realised within the framework of Five Million Incidents conceived by the Goethe Institut/Max Mueller Bhavan Delhi and Kolkata, in collaboration with Raqs Media Collective | 10.00 am to 6:30 pm |  Open to all. 
Fieldnotes and Exhibition Highlights