As part of the Art Education Summit 2019, the Interactive Lab by CASP introduced creative learning modules that were implemented in their first edition of the Creative Learning and Practice (CLaP) Program in 51 government schools in East Delhi. Visual artists, architects, engineers, graphic designers, teachers, school authorities and most importantly children came together to design and implement spatial art tools which were outcomes of participatory workshops with children in these schools.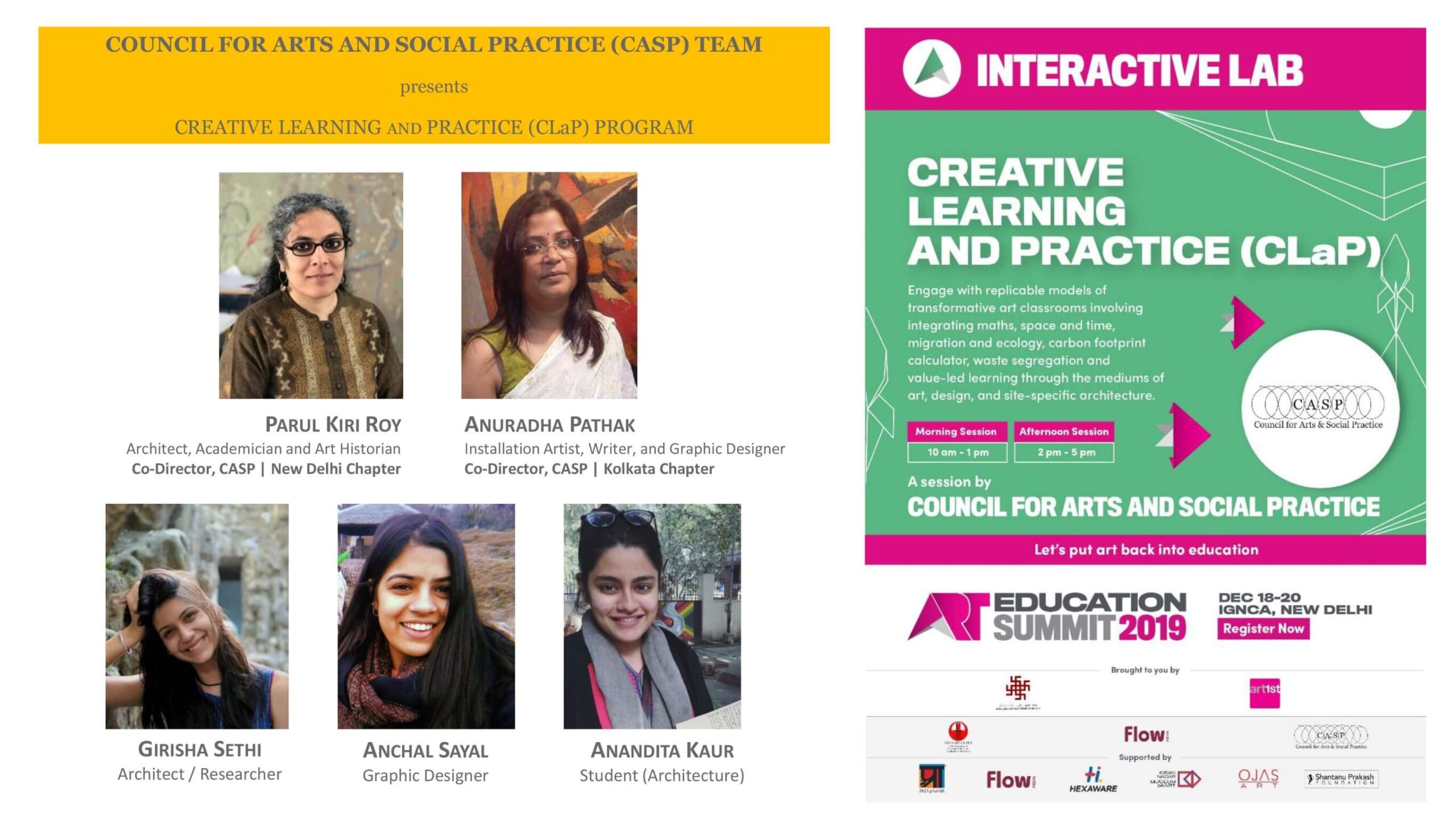 The CLaP program facilitates engagement of children through art and play, to foster learning by making, using and reflecting. Art processes and site-specific installations are an outcome of participation of children and the final interventions not only act as learning tools but also activate the architectural space of the learning environment. Drawing on the tenets of experiential learning and participatory education, CLaP engages children to explore the school environment and its architecture as an immersive ground for learning, and the creative processes of children offer the content for experiential art installations across art, science, ecology, emotional well-being, human values and professional dreams. Such an engagement places the school as a home, nurturing values of belonging and ownership, while relating with the world.
Using the school environment as a learning tool and as an immersive ground for everyday engagement supplements traditional teaching methods of textbooks and lectures. It makes the school campus child-friendly and children learn about a variety of things by simply moving around the space that gets enriched with art interventions. A significant benefit of spatial and experiential learning strategies of this kind is that the explicit responsibility of learning expands from being dependent on the unilateral flow of knowledge from a teacher to a student to being inherent in the entire school campus. This also makes students stakeholders in their process of learning and exploration, motivating them to learn from their environments in general – in the school, at home, around the city – and encouraging lifelong learning habits while improving their ability to absorb knowledge through interaction and play.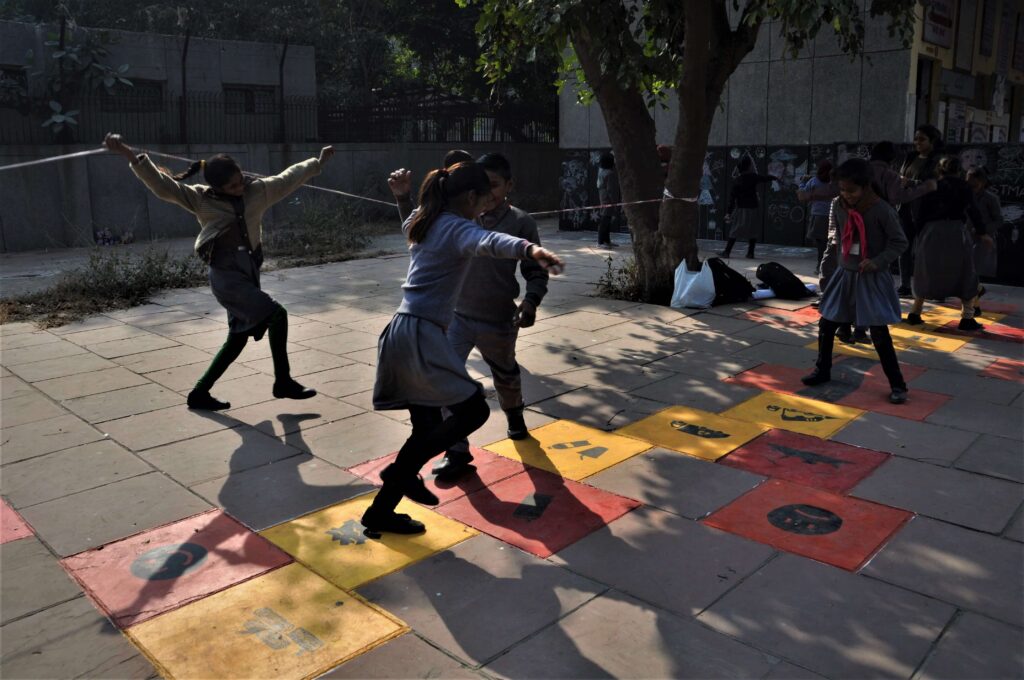 The CLaP Program implemented in 51 government schools in East Delhi followed a process based in exploration and participation of various stakeholders in the entire process – an interdisciplinary team of artists, architects, engineers, graphic designers, teachers, school authorities and most importantly children. The process was initiated with the ideation of relevant themes for children of different age groups by the CLaP team including educators. A preliminary survey was undertaken in the various schools to identify need-based themes and to be able to address school-specific issues. Discussions were undertaken on making interactive processes/installations and for devising different types of engagement activities for co-creating the intervention with students and teachers.
For the ideas developed, prototypes were created keeping various parameters in mind, including materiality, costing, vandalism-proofing, and to ensure safety and high usability. The kit of ideas was developed to accommodate various themes of learning, focusing on various knowledge domains. The ideas were discussed with school authorities and teachers to select specific works for each school.
The prerequisite for most ideas included children's engagement for co-creating before fabrication. This was undertaken as a 'pre-installation workshop' involving storytelling, presentations, interaction with children to receive their experiences, and expression by means of drawing and clay-modeling. The outcome of the workshops became integral contributions to the final intervention installed in the school campuses. The artworks were fabricated using materials like clay, metal, wood, bamboo, everyday objects and vinyl prints, and were located in the school campus at appropriate spots like corridors, stairways, front-yard and courtyards. Students from various age-groups of the school were then oriented through 'post-installation workshops', to help familiarize them with the works and initiate the process of interaction for continued participatory learning.
CASP was invited at the Art Education Summit (December 18-20, 2019) in New Delhi to present the CLaP Program in the Interactive Labs of the Summit and engage with CBSE teachers from different parts of the country. The six modules of the Interactive Lab, besides introducing the relevance of art engagements for learning, comprised of thematic learning principles that involved:
Integrated learning tools for children.
Works that are replicable in nature.
Processes that could easily be implemented by teachers' within their specific contexts of teaching.
Develop value-led learning through art, design, and site-specificity of a work.
Six Thematic Sessions:
Ecological Sustainability and Climate Change.
Questioning Socio-Cultural Perceptions.
Subject-Oriented Lessons.
Emotional Well-Being and Human Values.
Mapping Everyday Environments.
Future Paths and Choosing a "Career."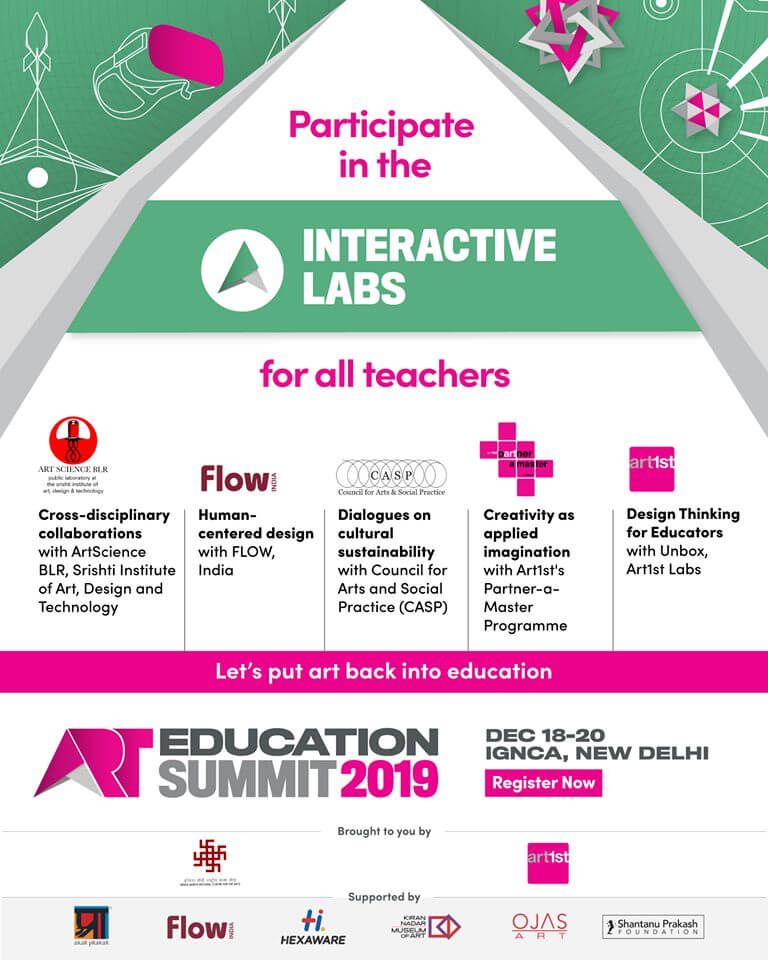 The lab aided to build a community of teachers from CBSE schools with a commitment to transformative arts education. This will in turn help them develop the lesson plans and classroom interactions to familiarise students about the interrelations between the arts and society.
A handout of printed postcards was provided to teachers of selected art installations implemented in schools in the first edition of the CLaP Program for future teaching reference.
Facilitators: Parul Kiri Roy (Architect and Academic, New Delhi), Anuradha Pathak (Artist and Graphic Designer, Kolkata), Girisha Sethi (Architect and Researcher, New Delhi), Anchal Sayal (Graphic Designer, New Delhi) and Anandita Kaur (Architecture Student, New Delhi).
The Art Education Summit was organized by Art1st Foundation, Mumbai, in collaboration with the Indira Gandhi National Centre for the Arts (IGNCA), and the Central Board of Secondary Education (CBSE).
For more details, please visit: https://casp-india.org/category/activities/creative-learning-and-practice/