Linear Extension focuses on the issues of our environment in the process of development, through the process of collective aesthetics. Collective Aesthetics is the creative process that shapes an aesthetic by using both tangible and intangible human capacities through collaborative experiences, and infused with political tones and cultural values.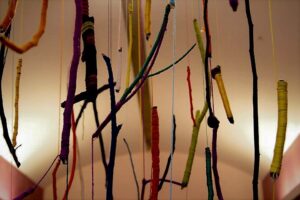 This participatory workshop will aim to explore our imagination towards a sustainable future and how we can employ both economic and technological advancement for preserving our natural environment and habitats. This will also expand our understanding of how transformative thinking can contribute to the imagination of an equitable future.
Linear Extension was conceptualized and facilitated by Anupam Singh (Artist and Educator, Navi Mumbai), for children at the Child Care Centre, Tata Institute of Fundamental Research (TIFR) in collaboration with The White Paper Project, Mumbai.
This workshop was also held for members of New City Limits, a non-commercial cultural collective in Navi Mumbai. The outcomes of this workshop was part of the inaugural exhibition, New City Limits (November 17-24, 2013) at the Vaikunthbhai Mehta Research Centre for Decentralised Industries (VMRCDI), in collaboration with the Yusuf Meherally Centre and Khadi Gramudyog Andolan, Navi Mumbai.
9th November, 2013 | 11.00 am to 4.oo pm | Child Care Centre, TIFR.
1oth November, 2013 | 11.00 am to 4.oo pm | New City Limits at VMRCDI.