In conjunction with the Jol-a-Bhumi Utsav 2021 formulated by Disappearing Dialogues (DD) Kolkata, Echoes is an international forum to discuss key topics and challenges related to environment and sustainability, traditional knowledge(s) and practices, arts and social practice. In the first edition of Echoes, Anuradha Pathak (Co-Director, CASP, Kolkata chapter) was invited to present our project From Up There They Were Just Numbers (2019) conceived in collaboration with artist-filmmaker, Kush Badhwar.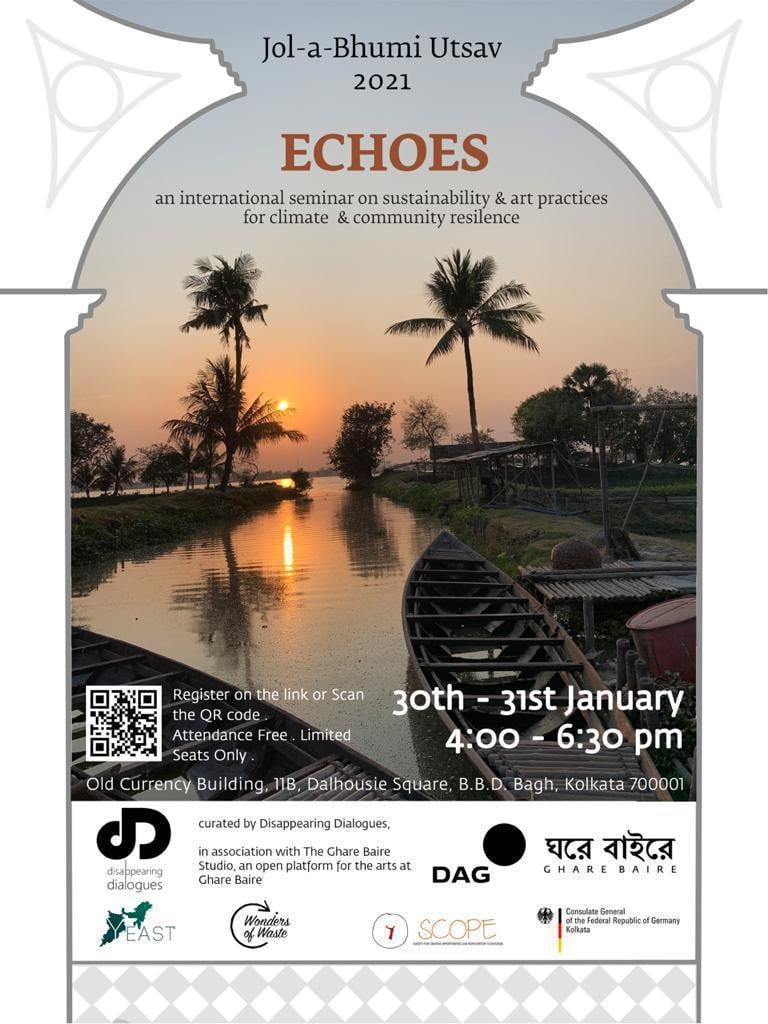 The Disappearing Dialogues (dD) collective has diligently engaged with East Kolkata Wetlands' communities combining pedagogy and innovation. The Covid crisis has exacerbated existing inequalities and raised many challenges, and informal and marginalized communities have been hit the hardest. Most of EKW's populace belong to this category and other parts of the world, like the EKW, are also facing similar challenges in one form or another.
Echoes Seminar is an international forum for elaboration, discussion and dissemination on key topics and challenges and how people and institutions are responding to the same. The seminar recognises the importance of building community resilience and cohesiveness through collective conversations (online and onsite) to learn and question future trajectories of action.
It is in this context that our project From Up There They Were Just Numbers (2019) framed itself through the lens of of qualitative fieldnotes valued in the fields of ethnography and ecology, amongst others, alongside artistic interventions.  Our paper attempted to present the project in three parts: firstly, through the visual and aural archive of the project site (Navi Mumbai International Airport) done through various field interventions and participatory modes of social practice by Kush Badhwar and CASP (Amrita Gupta and Anupam Singh) in Navi Mumbai. Secondly, present the intervenient aspects of the project in the exhibitions at Goethe Institut/MMB New Delhi and Kolkata, and lastly discuss the future endeavours relating to the project site at Navi Mumbai.
From Up There They Were Just Numbers is an ongoing project and will take on a variety of forms by adding to our existing archive and future listening environments. We would like to listen to its echoes, with echoes being considered as associated and resultant incidents and the long-term ramifications of its removal, in and around the airport and exhibition sites. This would involve a continuation of engagement in our local area, further pursuing affinities, conversation, research and documentation with or amongst various groups and individuals, amongst others, alongside publications. An abiding question is: how do we hear and see the precarity of the situation, and most importantly, remember?
From Up There They Were Just Numbers is realised in the framework of Five Million Incidents in 2019 conceived by the Goethe Institut/Max Mueller Bhavan Delhi and Kolkata, in collaboration with Raqs Media Collective.
For more details, please visit: https://casp-india.org/activities/exhibitions/from-up-there-they-were-just-numbers/