From Up There They Were Just Numbers takes its name from the opening lines of the film City on the Water written and directed by the architect Charles Correa in 1975. This research-based project and sound installation was collaboratively formulated by  artist-filmmaker Kush Badhwar and CASP (Navi Mumbai chapter), and realised in the framework of Five Million Incidents conceived by the Goethe Institut/Max Mueller Bhavan Delhi and Kolkata, in collaboration with Raqs Media Collective.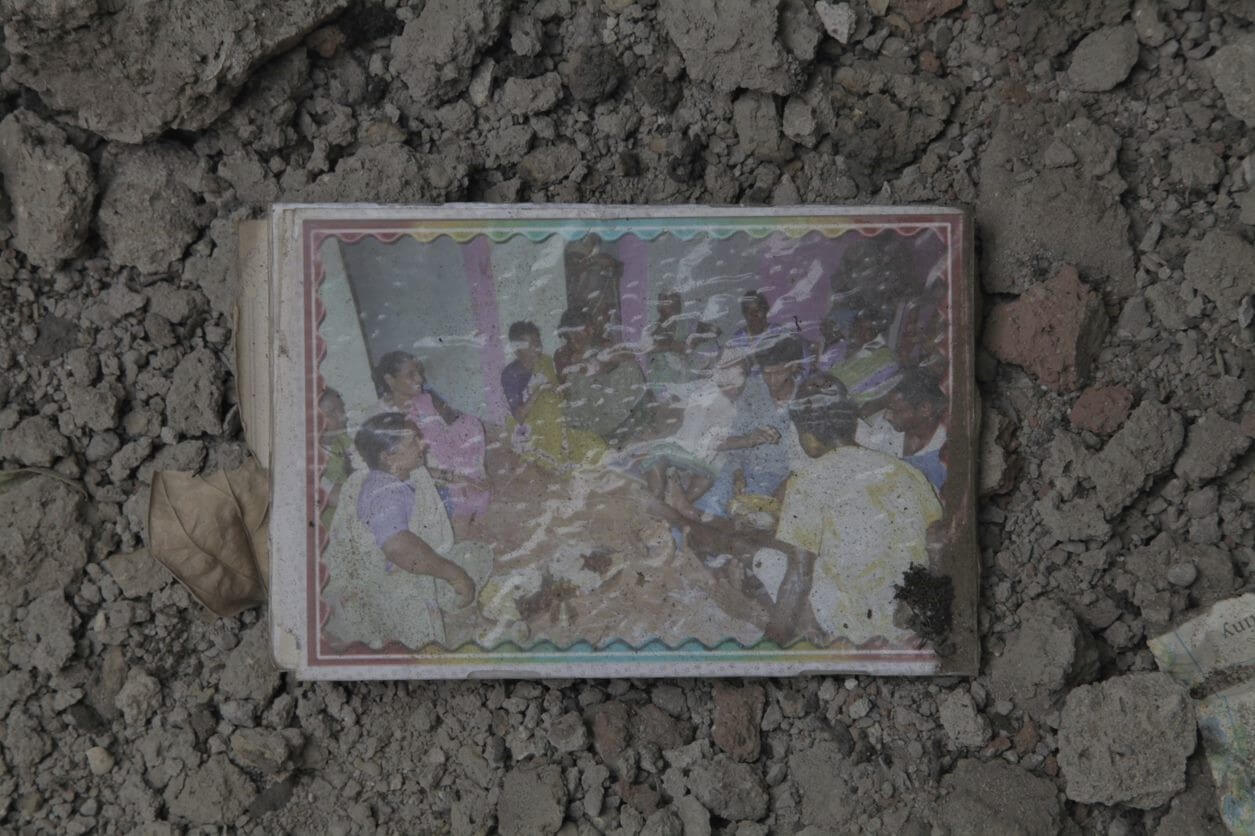 From Up There They Were Just Numbers was composed of audio recorded in and around the construction site of Navi Mumbai International Airport. Our fieldwork from February to August 2019 has culminated into the creation of an aural and visual archive, components of which were exhibited as a soundscape engaging with the sonics of Ulwe Hill as a starting point to the context of Five Million Incidents as a proposition, period, formulation and framework. Accompanying the soundscape were photographs from the airport site collected on G-Drive, printed through an inkjet printer, and pasted on a courtyard wall and blue noticeboards at the Goethe Institut/Max Mueller Bhavan Delhi and Kolkata respectively, in the duration of the exhibition from September to December 2019.
Ulwe Hill is part of the Western Ghats or the Sahyadri, a primarily basalt mountain range that runs parallel to the western coast of the Deccan plateau. At 92 metres high, Ulwe Hill is the largest of a number of hills that are in the process of being levelled to make way for the Navi Mumbai International Airport (NMIA). Through the metaphors of blasting and bhumipuja, the proposition was to exhibit a changing soundscape of the site. It is hoped that new knowledge will emerge from creating a focused space to listen to this daily incident, from listening on site, recording, editing, making; to how it functions in the exhibition space itself.
As residents and practitioners of Navi Mumbai, Kush and CASP utilise their embedded positions as long-term residents in their access and perspective of the site in this ongoing project. The project is specific, yet addresses wider anthropogenic and cultural sustainability concerns, related to the site itself, the area in which the residents live, and about similar developmental projects and situations elsewhere, thereby refracting the type of exchange an airport aims to facilitate with insight and criticality.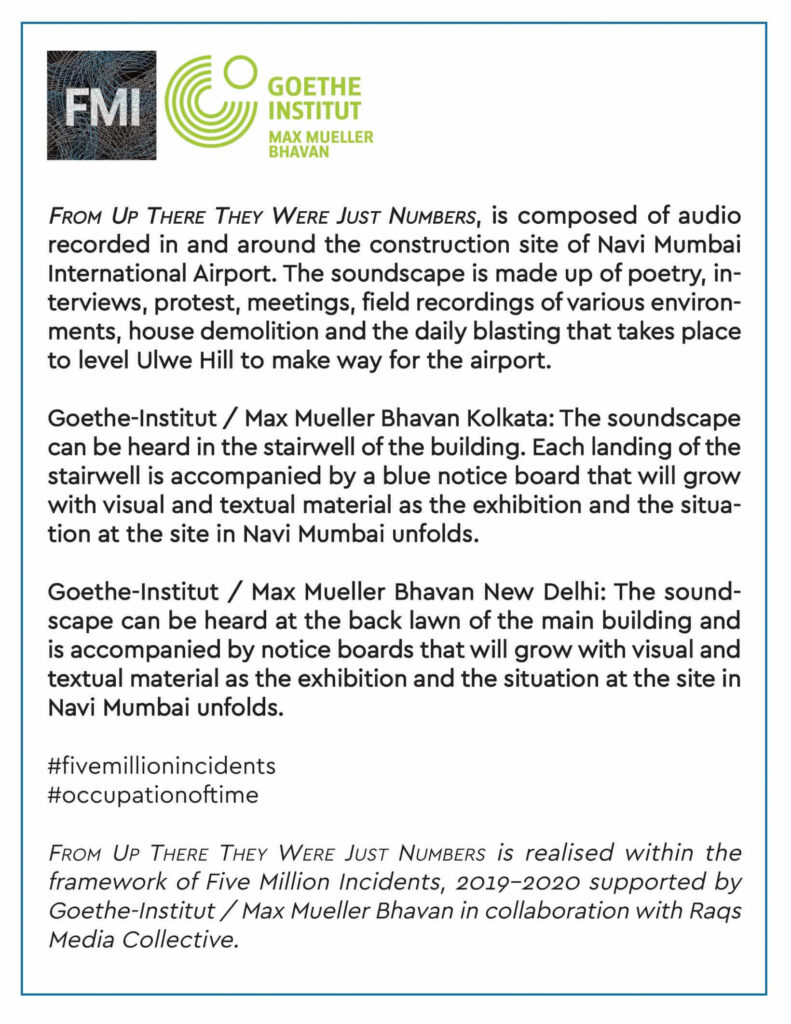 With the above context in mind, our research at the site took on the form of qualitative fieldnotes valued in the fields of ethnography and ecology, amongst others. This is transposed into the artistic field where notes have been made through walking, listening, photography, sound recording, site-specific drawings, conversations with affected villagers both at the site and on WhatsApp, and recording direct observations as they are being observed. This research form also involves absorbing the modalities of the airport site through the observer-participant method, bringing in descriptive, experiential and reflective perspectives, and opening out fieldnotes from an isolated practice to social practice.
Research Fieldwork in Navi Mumbai: Kush Badhwar (Artist and Filmmaker), Amrita Gupta (Art Historian and Writer with CASP) and Anupam Singh (Artist and Educator with CASP).
Exhibition Ideation/Making at Goethe Institut/Max Mueller Bhavan, Kolkata and New Delhi:
Kush Badhwar (Artist and Filmmaker, Navi Mumbai), Amrita Gupta and Anupam Singh (CASP, Navi Mumbai), Anuradha Pathak (Artist and Graphic Designer with CASP, Kolkata), and Noopur Desai (Researcher and Writer with CASP, New Delhi).
Exhibition Assistance: Girisha Sethi (Architect and Researcher, New Delhi), Anchal Sayal (Graphic Designer, New Delhi) and Anirban Saha (Artist, Kolkata).
For more details, please visit: https://casp-india.org/activities/exhibitions/from-up-there-they-were-just-numbers/
Exhibition Duration: Thursday, 5th September to Saturday, 12th December, 2019 | 10.00 am to 6:30 pm | Open to all.