The Creative Learning and Practice (CLaP) program is an initiative towards experiential learning and interactive arts-based education in schools and informal learning spaces. In the first edition of CLaP from 2018-2020, visual artists, architects, engineers, graphic designers, teachers, school authorities and most importantly children came together to design and implement spatial art tools which were outcomes of participatory workshops with children in 51 government schools in East Delhi.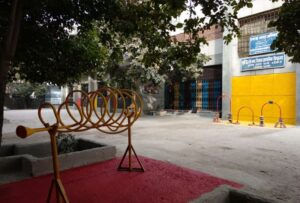 The CLaP program began with the need to integrate art processes, artistic outcomes, and art installations with the learning process of children, enabling them to benefit from the process of self-expression and production of meaning that art facilitates. The program stands on grounds of experiential learning and exploring participatory processes.
Experiential learning is the methodology of facilitating primary experiences in students in an immersive fashion – to allow them to learn by doing, engaging and relating – as individuals as well as with peers. Experiential learning draws out a wider range of learner responses than conventional classroom learning, including physical activity and social engagement along with ethical and emotional reactions.
Children explored a variety of themes based on academic/curricular content, natural ecology, socio-cultural domains, human values, emotional wellbeing, scientific explorations, everyday built environments, crafts and professional pursuits. The final art installations inculcated the creative expressions of the student community and become part of their school campus for everyday participatory learning. These spatial art tools also function as replicable models that can be implemented by teachers and educators in their own contexts.
The project propagated interactive learning and participation of children through play. The interventions activated 'dead' spaces in the school campus creating lively child-friendly learning environments by adding forms, colour and meaning. The process facilitated immersive engagement of children to foster learning by making, using and reflecting. Alongside, it brought visibility to the implementation of NSM (Non Structural Mitigation) devices, through interactive sessions and infographics.
CASP worked with 51 schools in East Delhi in collaboration with SEEDS India. The project involved 12 creative practitioners (selected through an open call) as part of our execution team, who worked on ideation, conducting workshops with school children and in the process of fabrication and installation of creative learning tools in the schools. Through the process, a total of 152 interactive artworks were installed by engaging with almost 600 students through pre-installation workshops through collaborative processes. The CLaP program also engaged with 90+ school teachers in these 51 schools. Our team also conducted post-installation workshops with a group of students in each school, interacting directly with a total of 1500 students.
CASP Mentors: Parul Kiri Roy (Architect and Academician, New Delhi), Anuradha Pathak (Artist and Graphic Designer, Kolkata), Anupam Singh (Artist and Educator, Navi Mumbai) and Jinal Sangoi (Artist and Educator, Mumbai).
Ideation and Execution Team: A. Sreedharan (Artist and Electronic Engineer), Antara Pain (Artist and Educator), Damini Rathi (Architect and Researcher), Kanchan Joneja (Architect and Graphic Designer), Yashwin Dev (Architect and Photographer), Nishita Mohta (Architect and Communication Designer), Annam Irfan (Architect and Illustrator), Suvajit Mondol (Artist and Ceramist), Tilottama Bhowmick (Artist and Educator), Girisha Sethi (Architect and Researcher), and Anchal Sayal (Graphic Designer).
Documentation: Akash Kumar Das (Photographer).
The first edition of the CLaP Program (2018-2020) formed part of the Honeywell Safe Schools Project initiated by SEEDS India, and supported by Honeywell International Inc.
December 2018 to August, 2020 |  Open to the students, teachers, and administrators of 51 government schools in East Delhi.