With the world amidst the Covid-19 crisis, the social and economic disruptions have made governments take measures to handle this issue. The idea of Basic Income has been around for a long time but in recent years it has moved from the fringes of political discussion into the mainstream.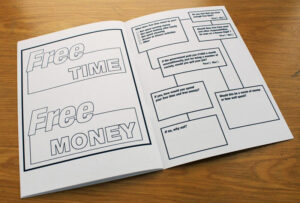 What is universal basic income? "…an income paid unconditionally to individuals regardless of their family or household relationships, regardless of other incomes, and regardless of their past, present, or future employment status." It is a simple social policy and represents a humane way of ensuring everyone has enough income to get by during the crisis. Even in normal times, basic income is being increasingly recognised as a policy that provides a ground on which people can stand and build their lives.
In February 2020, Council for Arts and Social Practice (CASP) had organized a talk on Universal Basic Income (UBI) in collaboration with TIFA Working Studios, Pune. Given its significant context and possibilities for an equitable future, CASP and TIFA present a Zoom Meet inviting the artist, Toby P Lloyd, and the sociologist, Sarath Davala, to give an overview of the Basic Income movement for a wider audience.
Toby P Lloyd is an artist currently undertaking a practice-based PhD in the Fine Art Department at Newcastle University, United Kingdom. His research examines public attitudes to work and the emancipatory affects Universal Basic Income could have on society. He will present different interpretations of this policy, and draw from his own PhD research and art projects along with the work of others involved in the movement in the United Kingdom.
Sarath Davala is a sociologist and a basic income advocate. He is currently the Vice-President of Basic Income Earth Network (BIEN), London, and Coordinator of India Network for Basic Income (INBI) that advocates for basic income in the Indian context. He will present results from pilot studies on this policy that were carried out by SEWA and UNICEF in Madhya Pradesh, India, between 2010-13, and speak on the recent proposal on Emergency Basic Income (EBI) for the informal sector that the INBI has presented to the central government.
Respondents: Amrita Gupta (Art Historian and Writer, Navi Mumbai) and Trishla Talera (Founder, TIFA Working Studios).
This program is organized in collaboration with TIFA Working Studios, Pune.
23rd April, 2020 | 4.30 pm – 6.00 pm IST on Zoom | Open to all.