Goondool, is a collaborative exhibition between young residents of Ganj Peth, Pune, an anthropologist, and a designer. The aim of this audio-visual exhibition was to highlight the ordinary and the extraordinary stories of people and their lives in Ganj Peth, an area rarely given its due recognition by the dominant Puneri culture.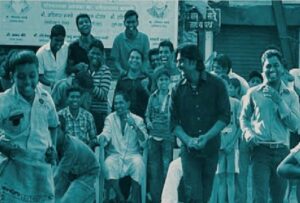 In this conversation, we revisit the process of the making of the exhibition in April 2017 and talk about the politics, challenges and the joys of such a collaborative effort.
Madhura Lokahare is an anthropologist and teaches academic writing in Delhi.
Rekha Thorat lives in Ganj Peth and is a beautician and a dancer, an also an expert biriyani cook.
Rakesh Mali lives in Ganj Peth, is a gadget lover and loves to play cricket.
There will be a display of an audio artwork showcasing the A-Z of Ganj Peth, in conjunction with the talk.
About Prakalp Pune Festival:
Prakalp Pune is a pursuit to activate the city and provoke citywide cultural and creative discourse. Collaborating with local creatives to concretize Pune as a truly unique cultural scene and putting the city back at the forefront of international and national consciousness as a unique creative destination. Being a creative community-centric venture, our ethos is to archive and study the historic while 'projecting' the contemporary.
The project is a reimagining of the various cultural aspects of the city by creating, showcasing and archiving work about the locale. To educate, energize and involve the community, we aim to not only be inclusive but also participatory. Intervening in public space, reclaiming and creating ownership of the city. These activities all lead to the raising of civic and social awareness, and a sense of belonging that builds a strong cultural identity. The programming is developed in collaboration with local artists, experts on the history of the city and cultural influencers, to engage Pune in a truly immersive experience of the city.
This program is organized in collaboration with TIFA Working Studios and Prakalp Pune.
12th January, 2019 | 7.00 pm – 8.30 pm | Open to all.