As part of the Pune Biennale 2015, Urban Flutes focuses on garden-making and dialogues with plants to create references to the history of heritage gardens in India and responding to the need for sustainable practices in contemporary urban life.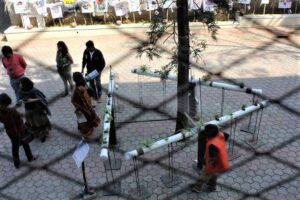 In this participatory project, the intention is to fathom various alternative techniques to increase the scope of greenery within the limited spaces of our cities, to counter environmental issues. The project will also put forth the question of how we can use knowledge to create sustainable practices through community engagement. Keeping the focus on Pune as an important cosmopolitan city and centre, how is the growth of the city impacting its environment and of the region at large? Being one of the most populated cities in India, the increasing numbers of industries, vehicles and construction sites are adding to the SPM (Suspended Particulate Matter) which in turn is resulting in increasing cases of respiratory issues.
The project closely documents the relationship of humans with plants and trees. Our interactions with plants don't only impact the health of plants, but it deeply reflects our mental health. How does the changing landscape affect human psychology over time and physical health, and also our relationship with nature, spaces and with our fellow human beings?
Precursor workshop: Dr. Vasantdada Patil Madhyamik Vidyaniketan (a municipal school), Pune. School students (21) co-authored and produced an installation for the Pune Biennale.
28th, 29th and 30th November, 2014.
Interactive Public Art Installation: Deccan College, Pune.
Exhibited over the course of the Pune Biennale, 2015.
A talk by the artist was held with the municipal school teachers and interested public during the course of the exhibition.
Facilitator: Anupam Singh (Artist and Educator, Navi Mumbai).
6th to 15th February, 2015 | 11.00 am – 5.00 pm | Pune Biennale.
Workshop and Exhibition  Highlights