As part of the Art Education Summit 2019, the Interactive Lab by CASP introduced creative learning modules that were implemented in their first edition of the CASP: Creative Learning and Practice (CLaP) Program (2018-19) in 51 government schools in East Delhi.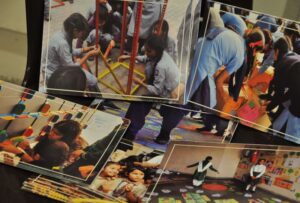 The first edition of the CLaP Program involved artful communication strategies, engaging with the architectural spaces in these schools, and enhancing cognitive, participatory, affective and behavioral skills in students. The CLaP program facilitates engagement of children through art and play, to foster learning by making, using and reflecting. Art processes and site-specific installations are an outcome of participation of children and the final interventions not only act as learning tools but also activate the architectural space of the learning environment.
The six modules of the Interactive Lab, besides introducing the relevance of art engagements for learning, comprise of thematic learning principles that involve:
Integrated learning tools for children.
Works that are replicable in nature.
Processes that could easily be implemented by teachers' within their specific contexts of teaching.
Develop value-led learning through art, design, and site-specificity of a work.
Each of the learning tools, as understood through the different thematic modules, involve immersive practices of direct experience and interactivity with the created objects/spaces, thereby enhancing emotional learning and cognitive thinking while engaging with current issues of our time. The lab will help build a community of teachers from CBSE schools with a commitment to transformative arts education. This will in turn help them develop the lesson plans and classroom interactions to familiarise students about the interrelations between the arts and society.
Six Thematic Sessions:
Ecological Sustainability and Climate Change.
Questioning Socio-Cultural Perceptions.
Subject-Oriented Lessons.
Emotional Well-Being and Human Values.
Mapping Everyday Environments.
Future Paths and Choosing a "Career."
A handout will be provided to teachers of selected art installations implemented in schools in the first edition of the CLaP Program printed as postcards for future teaching reference.
Facilitators: Parul Kiri Roy (Architect and Academic, New Delhi), Anuradha Pathak (Artist and Graphic Designer, Kolkata), Girisha Sethi (Architect and Researcher, New Delhi), Anchal Sayal (Graphic Designer, New Delhi) and Anandita Kaur (Architecture Student, New Delhi).
The Art Education Summit is organized by Art1st Foundation, Mumbai, in collaboration with the Indira Gandhi National Centre for the Arts (IGNCA), and the Central Board of Secondary Education (CBSE).
December 18th-20th, 2019 | 9.30 am – 6.30 pm | Indira Gandhi National Centre for the Arts (IGNCA), New Delhi.