Patachitras are the traditional forms of painting on scrolls in Bengal and are known as patas in the local language, whose narratives are often accompanied with songs. The artists are known as 'patuas' or 'chitrakars'(picture-makers) and this tradition dates back to pre-modern times (as early as 7th century) and was possibly more widespread even outside Bengal in north India.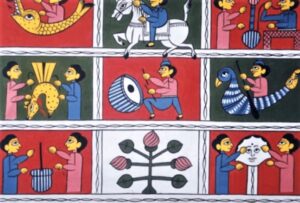 It is part of the living traditions of Bengal where families and guilds work together to create these patas which depict epic narratives, local stories and contemporary political/social concerns. Now, there are also individual patuas who work on these pats while following the traditional styles. Both men and women practice this style and mutually learn from each other; also, individual women artists have emerged from these traditions.
The patuas travel from place to place with these painted scrolls which are unrolled for audiences/listeners' and each painted panel is described through lively songs, bringing the visual, aural and verbal together, akin to a performance. Another unique aspect of this community is that the chitrakars come from both Hindu and Muslim castes, and some persons have syncretic names; Hindu and Muslim customs are often blended, and Muslim chitrakars are equally adept at the representation of Hindu myths. Apart from myths, the patuas also depict historical events, environmental concerns, the problems of war, terrorism and the complexities of urban life in these paintings, often through satire.
This workshop will introduce this art form to teachers from District Council Schools (Zilla Parishad) from rural Maharashtra, and then stories will be created in the form of scrolls of their own social contexts, and conclude with performances.
This participatory workshop organized in collaboration with Bharat Bal Vigyan Samuday, Pune, and to be implemented in the classroom instruction by these teachers.
Facilitator: Anupam Singh (Artist and Educator, Navi Mumbai).
7th September, 2016 | 11.00 am – 5.00 pm | Bharat Bal Vigyan Samuday, Pune.