The Right to Not Obey and the artist-in-residence at Casa Tres Patios, Anupam Singh (CASP, India), convene a laboratory on tools of creative activism to connect initiatives and experiences of activists and groups in the city of Medellín in Colombia.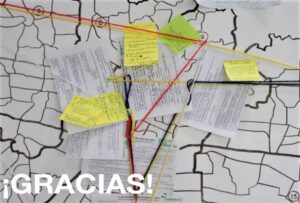 The objective is to think collectively: How to address the limitations and difficulties of each group and transform into productive modes of engagement. Defined as a kind of "meta-activism," creative activism offers a common platform for artists and activists to merge poetic and artistic methodologies with transformative field interventions for social change by addressing conflicts and creating solutions.
Through 2 workshops and 1 public forum, this engagement with community organizers from 8 activist organizations offers a platform for each participant to talk about themselves and their practices, and understand each other's power and create cooperative tools for equity and participation in creative activism.
Facilitator: Anupam Singh (Artist and Educator, Navi Mumbai).
August 13th, 2019 | 6.00 pm – 9.00 pm | Casa Tres Patios, Medellin.