Engaging with the layered history of Hotel Shalimar, an old art Deco hotel, which has now transformed into TIFA Working Studios, Pune, a site for dialogues on contemporary art practices, Sanchayan Ghosh will introduce keywords in site-specific art and participatory art practices.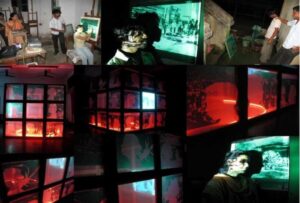 While situated within the context of the site, this participatory art workshop will involve participants into thinking processes, conversations and actions through select texts, keywords and found objects. As an engagement with Sanchayan Ghosh's concerns with s
ite-specific art, pedagogy, and public participation, the workshop will be a multi-disciplinary investigation of the intersections between an alternate art space, an educational site and the public sphere.
In 2004, Ghosh was awarded the Charles Wallace Fellowship and worked on Merge Down and Resist with three generations of Asian migrants in Bristol. He participated in the Kochi-Muziris Biennale (2012), and his selected solo exhibitions include Reversed Perspective: 3 Conjuctures, 2014, and Sisyphus Effect, Experimenter, Kolkata, 2010.
Ghosh received his MFA (1997), and BFA (1995) from Kala Bhavan, Visva Bharati University, Santiniketan, where he currently works as an associate professor in the Department of Painting.
This workshop is organized in collaboration with TIFA Working Studios, and an evening public talk will follow this program.
Facilitator: Sanchayan Ghosh (Artist and Educator, Santiniketan).
Workshop Seats: 15 registrants, Free Entry.
October 23rd, 2016 | 2.00 pm – 5.00 pm | TIFA Working Studios, Pune.