Earth Forum is a module contributing to the University of the Trees (UoT) developed by the social sculpture practitioner, Professor Shelley Sacks, Director at Social Sculpture Research Unit, Oxford Brookes University, United Kingdom.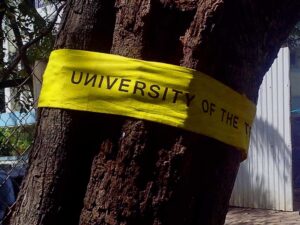 * University of the Trees enables groups and individuals around the world to participate in processes of joined up thinking, perception and action. It is a global free university that seeks creative responses to our ecological crisis, working with trees as our teachers.
* Earth Forum is a social sculpture, one can see this as both an artwork and a capacity development project, that offers new ways in which people of every age, gender or ethnicity can meaningfully develop their capacity to imagine, listen and exchange about how they might live on this earth.
Source: http://www.universityofthetrees.org/
In Mumbai, CASP hosted the UoT and Earth Forum, where we started with a walk around the Saraswat colony area in Santacruz.  We located a spot that is surrounded by residential buildings and near a pavement and a park. The University of Trees band was tied around  three trees, which was like warming up the space for the earth forum process. The three UoT bands created a triangle and our process took place  in the midst of the triangle. The forum discussed issues related to economic inequality, human relations to nature, our social systems, ecology and sustainability. We also reflected on our conscious actions that can shape the future of the world  we live in.
Facilitator: Professor Shelley Sacks (Social Sculpture Practitioner, Oxford).
March 9th, 2014 | 11.00 am – 2.00 pm | Saraswat Colony, Santacruz, Mumbai.