As a part of his arts practice, Chaitanya Modak enjoys the act of storytelling and makes co.mix and zines under the moniker, Won-Tolla. He regularly facilitates graphic narrative and art making sessions and also curates a community wall painting project called Bhitti Chitra.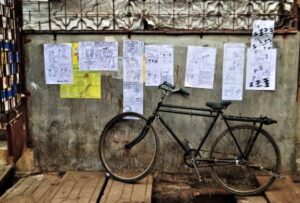 In this talk, Modak will present his process and experiences while working with the people of Dharavi across two years as a part of the Dharavi Biennale. The workshop culminated with the publication of Comix Epidemic – An anthology of tales from Dharavi.
The anthology carries a mix of 43 stories that belong to Dharavi residents from the ages of 14 to 60. Under the overarching theme of health, they cover a vast range of subheadings – the body, injuries, nutrition, depression, suicides, puberty, adolescent relationships and so on. In conjunction with the talk, copies of the Comix Epidemic and other graphic novels by Won-Tolla will be available for display and sale at the venue.
As a part of his design practice at Inhouse Design, he is passionate about design thinking and strategy and helps people and businesses to communicate themselves better across digital, print and film surfaces. Modak did his Bachelors of Commerce from the Pune University and his Masters in Communication Design from the National Institute of Design, Ahmedabad.
Respondents: Amrita Gupta (Art Historian and Writer, Mumbai) and Noopur Desai (Art Researcher and Writer, Pune).
This program is organized in collaboration with TIFA Working Studios, Pune.
16th May, 2017 | 6.00 pm – 7.30 pm | Open to all.