This presentation looks at the factors that led the Casa Tres Patios Foundation (C3P) in Medellin, Colombia, to shift its focus from supporting art and the arts community to considering social transformation as an artistic practice, and how it began to use art as one of the tools that can help to address the issues faced by society today.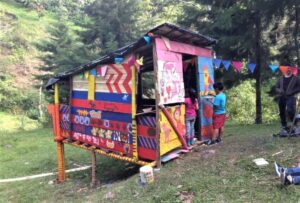 We will look at the history of the organization, its relationship to its context and important historic events in order to understand the questions and conflicts that have been confronted and continue to be confronted between the art system and impact oriented social practice, the effects of the education system on artists with social convictions and the learning processes that occurred which resulted in the current structure of the organization.
By examining some of the key projects that have determined the current focus of the organization the talk will illustrate how working with children and the concept of civic engagement, ex-combatants of the FARC and inmates in the local prisons have opened new possibilities, and how the organization began to critically examine its practices involving art and the community and the organizational changes that this implied. We will see how this analysis also contributed to the development of a research component that is critical for any impact oriented social practice and how informal educational processes have been systematically incorporated in order to address the needs of the communities in which the foundation operates.
William Anthony (Tony) Evanko is an artist, architect, founder and current director of Fundación Casa Tres Patios (C3P), a center for contemporary thought in Medellín, Colombia dedicated to promoting social justice. Since 2006 he has headed the foundation and has been the driving force behind its programs.
He has participated in the conceptualization and implementation of programs that include residencies for artists and academics, exhibitions, talks, workshops, educational laboratories, and the production of the foundation's publications. Since 2012 he has participated in the development of C3P's pedagogical model and the development of current programs, the School for Common Living and OCCULUS, an urban, cultural and social community observatory.
He has presented Casa Tres Patios programs at international events such as The 2nd Meeting of Responsible for Alternative Cultural Spaces, Montevideo, Uruguay (2008), Image / Event Center D'Art Contemporain, Geneva, Switzerland (2011), The Biennial of Young Art in Buenos Aires Argentina (2014), Creative Time Summit with other organizations of the Arts Collaboratory network at the Venice Biennale (2015), participated in the curatorial team of the international event MDE15 (2015), the Salzburg International Summer Academy of Fine Arts in Salzburg, Austria (2016), ICAA Ideas Council (International Center for Arts of the Americas, Museum of Houston, USA), and has participated in individual and collective exhibitions in Colombia, the USA and Europe.
Respondent: Anupam Singh (Artist and Founder, CASP, Navi Mumbai).
7th May, 2022 | 8.00 pm – 9.30 pm IST on Zoom | Open to all.