The presentation intends to bring out how design research, collaboration, experience design and storytelling can impact behaviour change towards positive climate action. The footprint of our consumptive lifestyles and the manifestation of climate change is sometimes evident in our everyday lives and sometimes hidden from sight.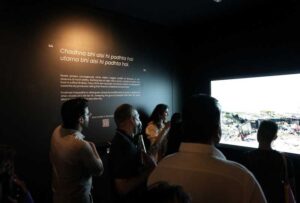 In this context, Kanchan Joneja (Co-founder and Creative Head at Off Centre Collective) will present two projects stemming from the same physical site yet very different in their intent, narrative and medium exploring intersections between climate change, waste and human behaviour.
'Shehron ke Raaz' is a reality check from the foothills of Delhi's largest landfill at Bhalswa, bringing visibility to the stories, aspirations and challenges of the waste pickers communities who live near it. As a collaboration with multiple stakeholders such as Basti Suraksha Manch, World Resources Institute India, and Citizen Matters – the aim of this multimedia story is to bridge the gap between policy and grassroots. It raises some fundamental human rights questions about the creation of equal cities for all citizens – especially those who are marginalized.
'Suno' is a new media art experiment, (supported by Serendipity Arts Virtual and exhibited at India Art Fair 2022) exploring the intersections between the art of storytelling and digital soundscapes. In a world where overconsumption of disconcerting visuals has desensitized us, Suno invites you to engage, empathise and discover a hidden landscape through digital storytelling.
This talk aims to share experiences around ways of seeing, understanding, designing and storytelling and spark conversations on how we can co-create a better world.
Kanchan Joneja is a design researcher, multidisciplinary creative and writer based out of Delhi. As Co-founder and Creative Head at Off Centre Collective, she's often found deep diving into wicked problems that cut across disciplines and designing thought provoking interventions or finding new ways of storytelling. An alumnus of the School of Planning and Architecture, New Delhi, her work has largely been impact-driven, collaborative and grounded in the development sector. She has worked with Serendipity Arts Foundation, SEEDS, World Resources Institute and Global Environments Network at University of Oxford. She believes in the power of collaboration and communication to scale impact in the world.
Respondent: Parul Kiri Roy (Architect, Academician and Co-director, CASP).
28th July, 2022 | 6.00 pm – 7.30 pm IST on Zoom | Open to all.