Examining the conflicts of labour in the neoliberal context and with a deep interest in aesthetics and politics, Koustav Nag's work reflects upon the social and environmental issues of our time, and in particular, the political self of the artist. PathoreManush: Narratives of Labour, a research based site-specific project and located at Pathortila in Silchar, Assam, investigated the questions of migration, labour, class, gender and wages through the brick-form and its politics of mass production in a local factory.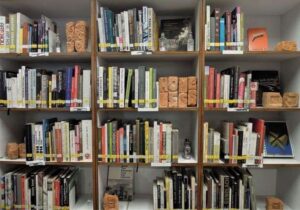 Conceived by the artist, it was a process-based collective work (2019-20) involving artists, art students, brick workers and local villagers at the site where soil mining is a primary source of livelihood. Through the metaphor of the brick, the project in its interactive and conversational format built an archive of the site through meetings, photographic and sound documentation, spontaneous growth of words, flex posters and video. The political and ecological conflicts of this space, the altered landscape from the Silcoorie tea estate to brick factories, and the issues of marginalized labour (local – permanent and migrant – temporary), is narrated in this project.
Culminating as a spatial intervention in the Goethe Institut, Kolkata, as part of Five Million Incidents, these text bricks, flex posters, and video documents were inserted within the library, coffee shop and common areas (corridors, staircase, behind doors) where everyday interactions with people took place. In this presentation, Koustav will discuss the critical questions, challenges, discomforting interventions, and his own position in such site-specific work, alongside the process of interlinking various media in his practice.
Koustav Nag is a multidisciplinary artist and researcher, based in New Delhi. Trained as a printmaker, Nag received his art education at Kalabhavana, Santiniketan (MFA, 2007) and the Indira Kala Sangit Vishwavidyalaya, Khairagarh (BFA, 2005). Over the years, his work has expanded to signage, video, installations, process-based projects and site-specific collective practices, and is interlinked across such media. He is currently pursuing a PhD from the Department of Fine Arts, Assam University, Silchar.
Some of his recent projects include Hello World (Transcultural Exchange, USA), The Mirror (Kolkata Centre for Creativity), PathoreManush (Five Million Incidents, Goethe Institut and Raqs Media Collective, New Delhi) and Sarai Reader-09 (Devi Art Foundation, New Delhi, 2013). He has participated at several residencies supported by the Japan Foundation, Crack-Bangladesh, and Religare Arts, among others and has exhibited his work across several platforms nationally and internationally since 2007. Nag is an awardee of the Ministry of Culture Scholarship and the Lalit Kala Akademi Fellowship programs, has taught at Amity University, Gurgaon, and presented his work in various educational and cultural centres.
Respondent: Amrita Gupta (Art Historian, Writer, and Co-Director at CASP, Navi Mumbai).
26th February, 2022 | 6.00 pm – 7.30 pm IST on Zoom | Open to all.