Community engaged art methodologies are being recognized at the centre of interest, but are still positioned as 'off-centre' practices. There is a better need to understand the terms 'off' and 'centre' and why and how such a 'centre' is being defined in our contemporary time. This offers us new insights about community engaged creativity and its importance in being diverse, inclusive, and accessible.
Such practices can archive narratives in a way that many mainstream formats cannot do, and also where art is the most effective co-creating tool. Beyond the white cube, rural and organic non-gallery spaces open out the possibility of decolonization of creative practices, thus necessitating a shift in our discourse. In this context, Sadya Mizan will speak of the conceptual trajectories in her curatorial practice in Bangladesh, including initiatives such as the URONTO Artists Community, Art Initiatives BD (AIB) and her affiliation with the cultural project for Rohingya refugees which functions as an alternative community museum. She will share the challenges and effectiveness of such site-responsive work, how they become long-term and function efficiently to express social realities, archive cultural identity, promote heritage and enhance local creative practices.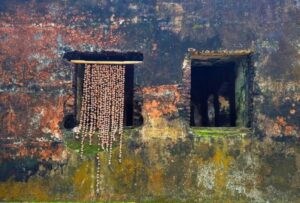 Sadya Mizan is an independent curator and researcher in Bangladesh. She is the founding member and director of URONTO Artists Community (2012), and one of the founding trustees of Art Initiatives BD (AIB, 2018). Her curatorial interest is around cross-disciplinary artistic experiments where community engagement and collective thought process plays a major role.
A post-graduate in Graphic Design from the Faculty of Fine Art, University of Dhaka, Mizan has had a diverse career in television, magazines, design houses and galleries, and contributing also as researcher for the Asia Art Archive, New Delhi. She is an affiliated member of the Artist-Led-Initiatives forum at Samdani Art Foundation and an ArtThink South Asia Fellow (2018-19). Her recent research on the "Anthology of Art Infrastructure" is supported by the Foundation for Art Initiatives (FfAI), that investigates strategic planning, sustainability, inclusiveness and accessibility of art organization models and projects in different geo-locations covering so far South Africa, Colombia, New York, Berlin and Oslo.
Some of her remarkable curatorial works are Kalik: Studio Residency Fellowship in off-centre locations and Womyn at Work, a curatorial digital intervention, among others. She is one of the partners at the Our Shared Cultural Heritage (OSCH), a project in partnership with Varendra Research Museum, supported by British Council. Her current affiliation is with the Rohingya Cultural Memory Center that identifies their heritage and cultural stories, nurturing their talents through creative processes.
Respondent: Amrita Gupta (Art Historian, Writer, and Co-Director at CASP, Navi Mumbai).
28th January, 2022 | 6.00 pm – 7.30 pm IST on Zoom | Open to all.