The emergence of several artist-driven spaces and practices of individual artists in and around Kolkata points to a new awakening – the reclamation of identity in cultural space. Though these artistic initiatives and collectivist practices are highly individual in their approaches, beliefs, and execution, these share a common history – the Partition of Bengal and its aftermath; the wounds from what has been etched deeply in the collective memories of the families to which the artists belong.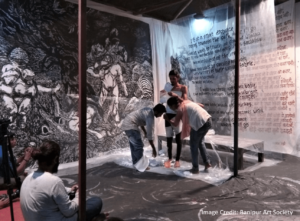 Seven decades later, emancipatory initiatives by specific artists from the affected families, (who are part of this research) make their presence felt by reclaiming the cultural space. This talk orbits around Banipur Art Society (an artist-driven residency), Chaander Haat (a collective of contemporary artists), and Vinayak Bhattacharya, whose expeditions into the No Man's land between India and Bangladesh since 2012 leads him to redefine space and therefore the experience of Partition – transcending to a new understanding between history and geography.
The speaker engages with these practices and spaces in an attempt to explore their nature: inclusivity and shared networks, expanding like capillaries over vast stretches of land; to discover the driving forces that keep these going, the threats that they face unceasingly, and to tackle caste issues, preservation of identities and documenting histories; and the organic and symbiotic outcomes of these – building communities through solidarity and culture. In the course of studying their production, circulation, and consumption, Maity would like to see these spaces and practices as opposing factors to market forces – two potential threats as she sees it: the commercial gallery and the 'puja circuit'.
Oindrilla Maity is an independent curator and art historian who recently completed her PhD in Culture Studies from Visva-Bharati, Santiniketan. She graduated from the Gwangju Biennale International Curatorial Programme (2012) and was invited to attend a research residency on contemporary artistic practices by the Gwangju Museum of Art, Gwangju, South Korea. She has taught Art History as guest faculty at several art institutions in India and South Korea, and is a regular contributor to several art and cultural magazines in India, writing simultaneously in Bangla and English. Her major anthropological curatorial venture includes Tracing a Human Trail: Metaphors of the Frontiers (Khoj, New Delhi, 2011) among others.
Respondent: Anuradha Pathak (Artist and Co-Director, CASP, Kolkata).
25th June, 2022 | 6.00 pm – 7.30 pm IST on Zoom | Open to all.