Sanchayan Ghosh is an artist and pedagogue, based in Santiniketan. His engagement is in site-specific interactive art practice with various communities which are participatory in nature. These workshop-based community dialogues often culminate into multi-layered installations and performances, with research drawn from the rich theatre practices in India.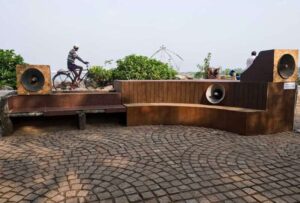 In this presentation, Ghosh will focus on his community-based art project, 'Incomplete Circles: Invisible Voices' at the Kochi Biennale 2012, alongside presenting a trajectory of his past work. The workshop-based dialogue with different communities in Fort Kochi on the relationship of languages evolved into a site-specific sound installation at the biennale. His interests include interdisciplinary art, theatre design, public art, scenography and pedagogy as socially engaged art practice.
In 2004, Ghosh was awarded the Charles Wallace Fellowship and worked on Merge Down and Resist with three generations of Asian migrants in Bristol. He participated in the Kochi-Muziris Biennale (2012), and his selected solo exhibitions include Reversed Perspective: 3 Conjuctures, 2014, and Sisyphus Effect, Experimenter, Kolkata, 2010.
Ghosh received his MFA (1997), and BFA (1995) from Kala Bhavan, Visva Bharati University, Santiniketan, where he currently works as an associate professor in the Department of Painting.
Respondent: Noopur Desai (Art Researcher and Writer, Pune).
This program is organized at the CASP Kolkata Chapter in Sector 2, Salt Lake.
11th February, 2015 | 5.00 pm – 6.30 pm | Open to all.