For many people in India the word `food' means little other than what you eat to survive. A large section of these poorest of the poor are Adivasis. Johar Welcome to Our World focuses on Jharkhand in eastern India, the home for thirty-two Adivasi communities.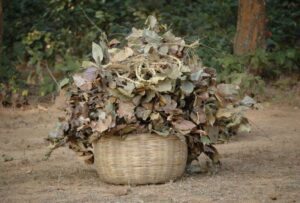 These Adivasis have an old and dynamic dependence on their local forests from where they get a significant portion of their core nutrition and medicinal material. They have been engaged in a symbiotic relationship with the forests that deeply influences their social, religious and cultural expressions.
Johar: Welcome to Our World, written and directed by Nilanjan Bhattacharya, explores the intricate relationship the Adivasis of Jharkhand have with their forests. The film documents traditional recipes, the medicinal qualities of various herbs, weeds and fruits and the traditional knowledge of their sustainable management by the Adivasis. The film also lays how mindless, aggressive development and the irrational conservation policies have damaged the Adivasi's relationship with their land and pushed them ever deeper into food insecurity.
The film is an attempt to draw attention towards an overlooked but rich and environmentally sustainable food culture that is hugely significance for a country like India. It received the National Film Award for Best Narration (Writing) in 2010 and has been screened at Tribal Conclave, Jamshedpur, ZEF Bonn University, University of Göttingen, and AEIN, Luxembourg.
58 minutes/Hindi with English subtitles/2010
Writer, Director and Producer: Nilanjan Bhattacharya
Editor: Indrajit Das
Sound: Partha Barman
Cinematographer: Ranu Ghosh
Voice: Qaushiq Mukherjee
Nilanjan Bhattacharya is a filmmaker, artist, and writer based in Calcutta. His films have been showcased in several film festivals, forums and art spaces in India and abroad. His film installation, Fishing Out of Time was exhibited in Experimenter, Calcutta. Bhattacharya received National Film Awards of India in 2005 and 2010 for his films, Under This Sun on biodiversity and related knowledge in India, and Johar: Welcome To Our World on indigenous food culture of Jharkhand. His other important works are, Rain in the Mirror and Bengalis in the World of Fish. He also writes on food and Calcutta's public culture.
Respondent: Shilpa Ballal (Social Development Consultant, Trainer and Documentary Filmmaker, Pune).
Ballal has worked with NGOs working in the field of gender, education and tribal culture. Her select documentary films include Adarsh Gaav: Hiwre Bazar, Prayas: Bhimashankar Tribal Development Project, and Vigyan Ashram: Development through Education.
This program is organized in collaboration with TIFA Working Studios, Pune.
11th June, 2017 | 7.00 pm – 8.30 pm | Open to all.