Compound 13 Lab is an experimental learning and making space situated close to the plastic recycling hub of 13th Compound in Dharavi. Using art, design, music, media and experimental science as a platform for generating knowledge and sharing learning, Compound 13 Lab explores the issues of waste, work and survival faced by the thousands of families, young people and workers engaged in Mumbai's informal recycling, repair and recovery industries.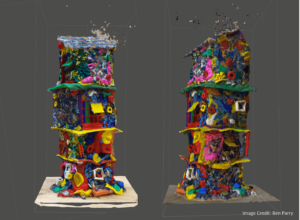 The lab is activated by an artist/designer/engineer residency programme that utilises the materials and resources of the recycling industry as the starting point for learning and teaching about ecological design and living solutions. At the Lab, young people are placed at the centre of their own learning, to co-design and develop a 'living curriculum' that responds to their issues, addresses their needs and aids their future goals. Through a field-responsive approach, the Lab draws on the technical and design expertise of their communities of users, who will assist in evaluating the outcomes of residencies and workshops.
This emergent curriculum will provide starting points for informal art and design education in India, acknowledging the lack of a visual arts curriculum, and particular design, in most formal primary and secondary schools. The future of the workplace will require a new generation of artists, designers and skilled makers. Giving children and young people agency in their learning is a powerful tool for change.
Ben Parry is an artist, curator and practice-led researcher based in London. He received his BA in Environmental Art from Glasgow School of Art, an MA in Urban Planning from the University of Liverpool and PhD from the University of the West of Scotland. Working internationally, his projects employ a wide range of mediums including film, photography, light, sound and machines. His research and practice explores the intersections of art intervention, urbanism and activism, and the self-organising systems of the user-generated city.
Graham Jeffery is Reader in Arts and Media and Education Lead for Culture & Creativity in the School of Business & Creative Industries, UWS. His work spans participatory and community arts practices, creative pedagogies, cultural policy and urban and community development. Graham has worked as a teacher, composer and facilitator in a wide range of contexts, including work with London International Festival of Theatre, the BBC Scottish Symphony Orchestra and East London Dance. He has led numerous action research projects with diverse communities in different places around the world.
Sharmila Samant is an artist, pedagogue, and former core faculty member at the Department of Art, Design and Performance at the Shiv Nadar University. In addition, she has been associated with activist groups and has engaged in collaborative and participatory art projects with various communities while exploring ideas of exchange, accessibility and authorship. Samant graduated in Sculpture from Sir J. J. School of Arts, which was followed by a diploma in Interior Design, a Fellowship at the Kanoria Center for Arts, Ahmedabad, and artist-residencies at Rijksakademie in Amsterdam and at Gasworks in London. She was one of the founders of the Mumbai-based collective, Open Circle, that sought to engage with contemporary socio-political issues via an integration of theory and practice.
Respondent: Amrita Gupta (Art Historian and Co-Director at CASP).
April 21st, 2023 | 6.00 pm – 7.30 pm IST on Zoom | Open to all.