Ranjit Kandalgaonkar is an artist whose work focuses primarily on unseen and ignored processes of urbanization. He draws upon contemporary visual arts media, archival documentation and historical artefacts to record showcase and critique urban flows.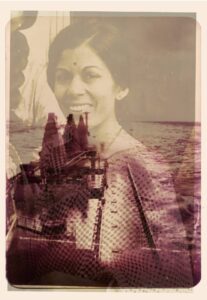 Through a research intensive practice that involves dedicated time in archives and libraries, he looks at new modes of dissemination that challenge conventional research methods. Collaboration and interdisciplinary exchanges formulate much of his work and his projects on the city map the vulnerability inherent in redevelopment processes. In this talk, the artist will articulate on selected works from different projects of his oeuvre.
Ranjit Kandalgaonkar's city-related projects include 'cityinflux', 'Gentricity', 'Stories of Philanthropic Trusts' with a focus on Mumbai. He has undertaken projects on histories of reclamation and speculation such as 'Isles amidst reclamation' and 'Seven Isles unclaimed'. 'Modelled Recycled Systems' is a long term project recording ship-breaking practices at Alang. Part of the project, Shipping & the Shipped was recently showcased at the Bergen Assembly, Art & Research Triennial in 2016. His awards and fellowships include Majlis Visual Arts Fellowship, SAI Harvard University artist residency, U.D.R.I Architectural Fellowship, Wellcome Trust Seed Award, and the Leverhulme Trust Artist in Residence. He was awarded the Gasworks artist residency in collaboration with Wellcome Collections last year for which he produced a drawing depicting his research on the Bombay plague of 1896. The artist lives and works in Mumbai.
Respondents: Amrita Gupta (Art Historian and Writer, Navi Mumbai) and Noopur Desai (Art Writer and Editor, Pune).
This program is organized in collaboration with TIFA Working Studios, Pune.
22nd March, 2018 | 6.30 pm – 8.00 pm | Open to all.