Sharmila Samant works in the mediums of photography, video, installations, performance and public art. She is the co-founder of Open Circle, an activist forum for artists in Mumbai that has worked to build dialogues on a transnational level by addressing contemporary issues.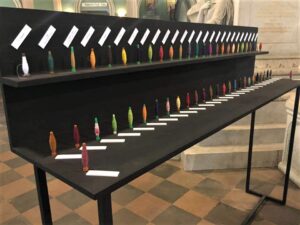 The artist has engaged in collaborative and participatory art projects with various communities while exploring ideas of exchange, accessibility and authorship. Globalization, identity and consumer culture are issues central to her works that express deep empathy for marginalized voices. Seeing art as a form of conscience shifting our perceptions, Samant strongly critiques market forces which re-define developing economies. In this presentation, she will map her artistic journey through key ideas and projects that have shaped her practice.
Sharmila Samant currently serves as an Associate Professor in the Department of Art, Design and Performance at Shiv Nadar University. She graduated in Sculpture from Sir J. J. School of Arts in 1989 and subsequently obtained a Diploma in Interior Design from S.L. Raheja College of Architecture, Mumbai in 1990. Her work has been part of many prominent exhibitions in biennales, museums, artist-led spaces and alternative venues in India and abroad.
This program is organized in collaboration with TIFA Working Studios, Pune.
12th June, 2016 | 6.00 pm – 7.30 pm | Open to all.