In introducing child-centered and child-directed participatory art learning, workshops for children during their summer vacation were organized in which learners are directly engaged in their own learning, in a dynamic and interactive environment.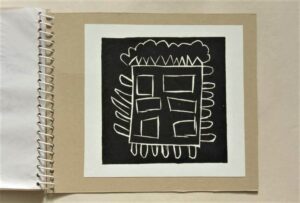 Can Objects Tell Stories? | May 13,14,15,16, 2014
Every object has a story to tell. Amanbir Singh (13 years old) was involved in the process of discovering  neighborhoods through objects and unfolding its stories. Walks, conversations, memories and story-telling were part of the process, and finally these objects were cast in plaster-of-Paris,  giving them an extended meaning and life!
Print Your Own Story Book | May 19, 20, 21, 22, 2014
Story Books are always fascinating. This workshop introduced the techniques of printmaking with the ideas of creating story books by imagining the future of our city. The outcome was a printed storybook titled Tanush Ka Warning which dealt with the imagination of 7 year old child, Tanush Haate, to transform the city we live in.
Re-Use/Re-Cycle: Crafting Waste | May 29, 30, 31, 2014
Waste is a major concern of our contemporary life. Think how waste effects our environment and learn how we can recycle these materials by creating art objects out of them. Amanbir Singh worked with the facilitators to shape this workshop.
Facilitators: Jinal Sangoi (Artist and Educator, Mumbai) and Anupam Singh (Artist and Educator, Navi Mumbai).
May, 2014 | 2.00 pm – 6.00 pm | Santacruz, Mumbai.