As artists living in cities, it is easy to access various means of expressing oneself, but it is a different story when you travel through the heartland of a nation. Painting is a far-removed reality for most. Everyone is living their own stories. In this scenario, the idea of collaborative portrait painting became an ineludible inspiration, to bring the art by the people into an inclusive dialogue.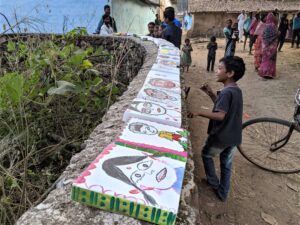 How may we dream together? How can we all listen to everyone and still be heard? How can collaborative action lead to collective learning? How may we all coexist and be able to embrace the uniqueness in each one of us? How can we capture our contemporary truths with a pluralistic ethos? As a participatory social action, the artists were excited by the prospect of envisioning how people would paint a portrait and what truth might that act reveal.
Such an unfolding required a sensitive and personal approach and the concepts of nation, art, society, situation, access, and such are made visible through a collaborative endeavor of co-creation. While such an approach seemed simple enough to transpire age and divides, yet it is an expansive one that can empower us and change the course of our collective future. "Portrait of a Nation" was conceived to witness this arts archive by the people.
Srinivas Mangipudi is an artist and an arts-science transdisciplinary researcher, working with drawing as a tool for collective learning, leading into various collaborative practices. He works across different mediums in an expanded notion of drawing for development of social interactions and knowledge sharing.
Enit María is a multi-disciplinary artist and a forest worker. Her art practice examines light and its journey through various photographic experiments involving building custom lens-less cameras as exploratory mediums. Her work also extends to collaborative painting to further encompass the potential of emergent dialogues and similar participatory projects through sound and performance.
Madhavan Pillai is an artist, curator, archivist, gallerist, TEDtalk speaker, and a researcher of 19th century photography. He primarily works with photography as a meta medium and is a catalyzer of many community-oriented and activist projects.
Respondent: Amrita Gupta (Art Historian and Co-director, CASP).
3rd December, 2022 | 6.00 pm – 7.30 pm IST on Zoom | Open to all.