Prabhakar Pachpute is an artist whose work investigates the state of mining industries, their forms of labour, and the effects of mining on our natural and social landscapes.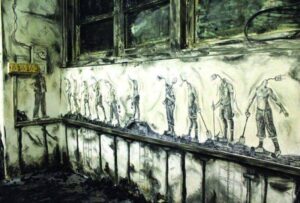 Through personal experience and field research, Pachpute creates charcoal drawings, woodcuts, charcoal stop-motion animations, sculptures, sound environments, immersive murals and installations. In this talk, Pachpute will present his research-based art practice focusing on his field visits to different mining sites across the world and their relevance to the making of his work.
Pachpute studied sculpture at IKS University, Khairagarh (2009) and M.S. University, Baroda (2011). He formed the artists' collective, Shunya, along with other young artists at the Clark House Initiative, Mumbai, where he also had his first solo show in 2012. Pachpute has exhibited on various platforms in India and internationally, and is represented by Experimeter, Kolkata. He is currently based in Pune.
In conjunction with the talk, the artist's sketchbooks and video work will be displayed at the venue.
Respondent: Noopur Desai (Art Researcher and Writer, Pune).
This program is organized in collaboration with TIFA Working Studios, Pune.
22nd September, 2017 | 6.00 pm – 7.30 pm | Open to all.