Navjot Altaf  is a transcultural artist, whose creative oeuvre reflects political and aesthetic concerns that have been informed by inquiry-based methods, placing process and exploration as central in her practice. In retrospect, her research process is in constant dialogue with plural frameworks of formal and discursive contexts.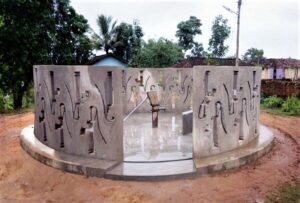 An alumnus of the Sir J.J. School of Art, her work since the 1970s ranges from drawings, prints, paintings, posters, sculptures, installations, site-specific collaborations, public art interventions and new media. Her object-based work has consistently challenged the art historical constructions of the modernist grid, while deftly formulating alternative abstractionist devices that defy a signature style. With a sustained engagement with indigenous cultures, local knowledge systems, ecology and social justice, her intellectual trajectory has been shaped by her life experiences, and a quest for experiential belonging in various locations. The essence of her imagery emerges from her theoretical and methodological innovation, combined with deeply engaged readings of historical and contemporary art, film and cultural theory.  The process has helped her address and realize the significance of transdisciplinary work "whose nature is not merely to cross disciplinary boundaries but to rearrange mental landscape". Since 1997, she has been working in collaboration with Adivasi artists and community members on ongoing art projects in public spaces in Bastar, Chhattisgarh.
Her extensive dialogues with her Adivasi colleagues led to the co-founding of the Dialogue Interactive Artists' Association (DIAA, 2000) in Kondegaon, Bastar, which focuses on enabling an inclusive and experimental platform for equal aesthetic rights, while probing systems of knowledge production.
Navjot Altaf will present her past interests and current practice and how she has gone back and forth-to come to an understanding that "Art can be deeply about things that matter profoundly to us in our lives."
This program is organized in collaboration with TIFA Working Studios, Pune.
30th April, 2016 | 6.00 pm – 7.30 pm | Open to all.