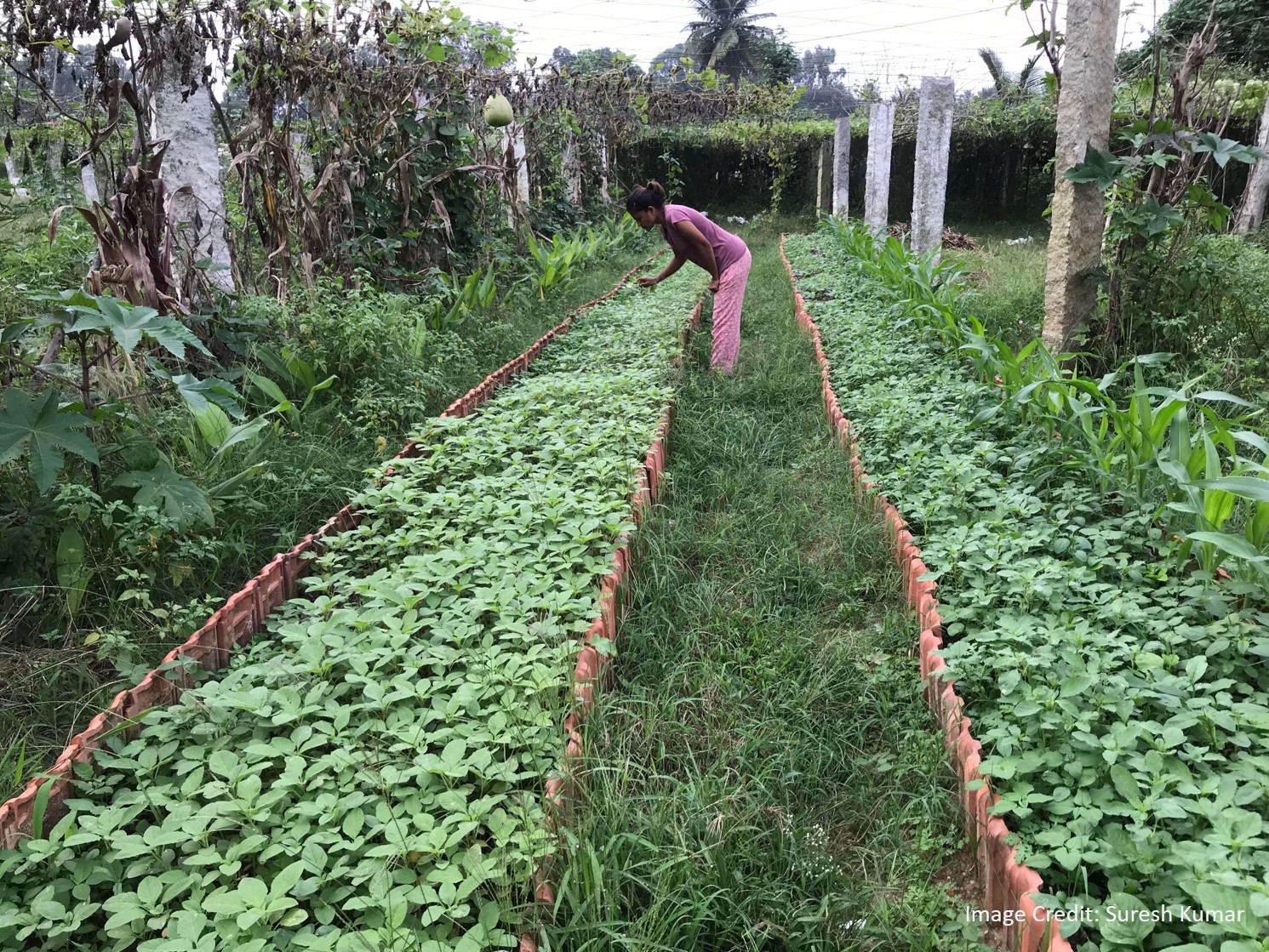 Sarjapura Curries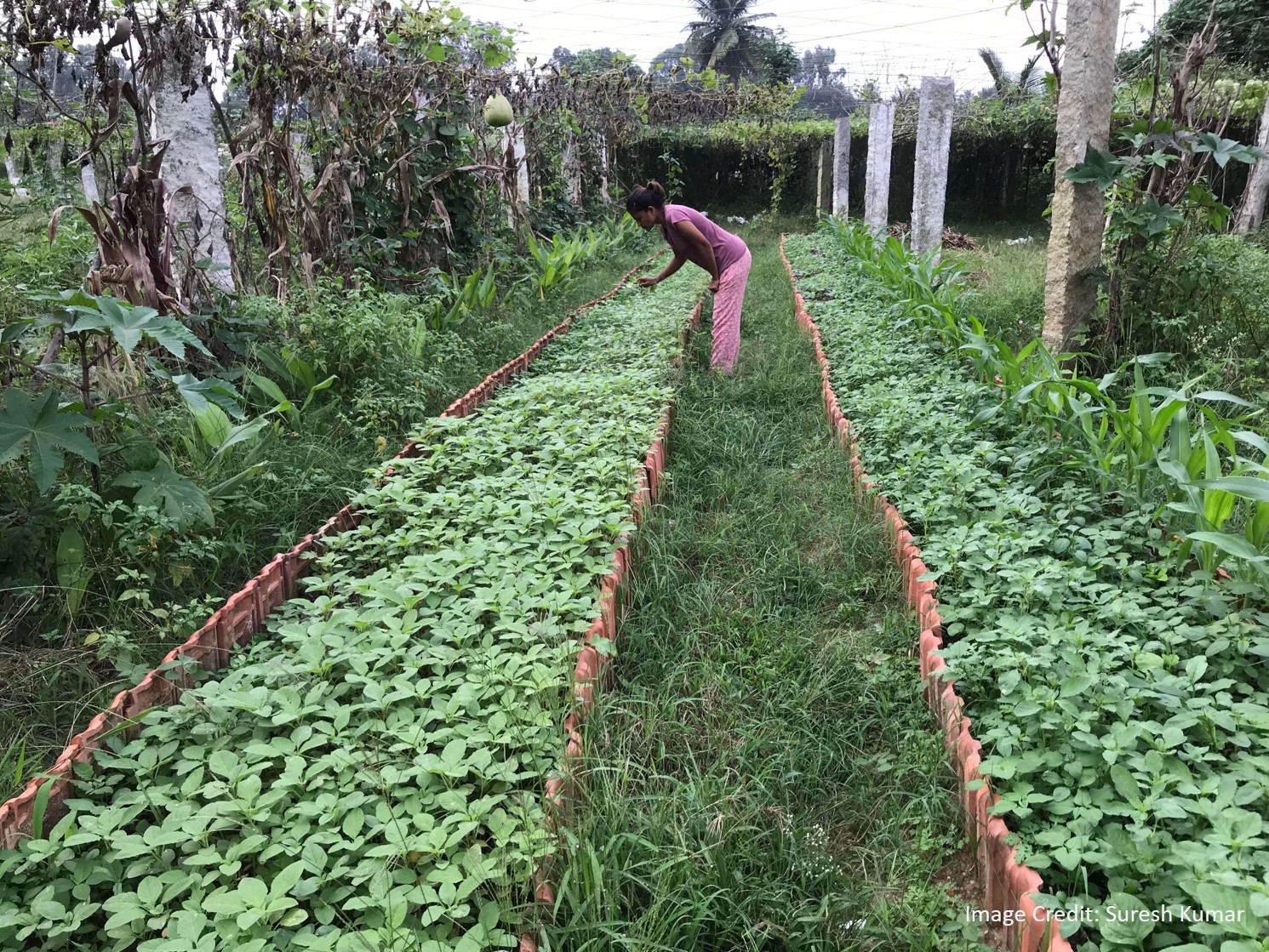 SPEAKER(S)
Suresh Kumar G.
RESPONDENT
Ayisha Abraham
Sarjapura Curries (founded in 2018-19) is a homegrown art and farm project conceived and handcrafted by the artist, Suresh Kumar G. The farm revives and conserves lost varieties of greens and vegetables, and is also an artistic approach to creating green areas with minimal intervention of machines. The project brings urban and rural communities together to share, harvest, and exchange seeds and saplings, with the idea is to provide healthy food-growing options to everyone.
An interdisciplinary artist, educator, and co-founder of artist-led residencies including BAR1 (the oldest Bangalore-based residency program in India) and SARLA, Suresh's interest in safe food became a subject of research. After many years of a practice that defied categories and pushed at the boundaries of art-making, he moved back to the periphery of the city of Bangalore, in sub-urban Sarjapura, returning to the same place he came from. He began to cultivate a plot of land, embracing the role of a not-for-profit agriculturalist. Like many like-minded creative people in the contemporary world, he is interested in finding more humane ways of growing and distributing nourishing food outside the hegemonic corporate model of production and consumption. Over the years, Suresh has focused on fostering creative exchanges within and without the artistic community.
It is often said that the art system is a privileged subset of society. However, the artist never really found comfort in this notion. Suresh's experiments with the idea of art in relation to the concept of community and everyday life that is less exclusive, more just, and more inclusive, is what excites and motivates him, providing an energizing creative purpose and force.
Respondent: Ayisha Abraham (Artist and Arts Consultant, Bangalore).

Join us on August 11, 2023
at 6:00pm IST
Meeting ID: 827 9646 1025 | Passcode: 745999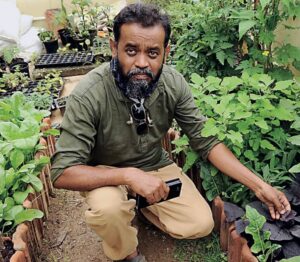 Suresh Kumar G. (b. 1973) is a performance artist, arts facilitator, arts mentor, and gardener based in Bangalore. In his earlier practice, he focused on large-scale installations and site-specific sculptural works that addressed social and environmental issues within his community. His work challenges conventional notions within contemporary art and operates outside the commercial and gallery context. He is the initiator of projects such as Samuha and Sarjapura Curries, and co-founded BAR1 and SARLA. At BAR1 (initiated in 2006), he formulated arts programs that promoted inter-city artists' exchange and arts pedagogy, and the time-bound project, Samuha Collective (2009) supported the showcasing of artists' work and interaction with the city's residents, alongside collaborating and curating works of art practitioners and peers. Currently, through Sarjapura Curries, he is actively involved in archiving and reviving the lost knowledge of wild vegetables and greens through natural farming methods.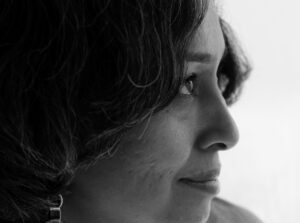 Ayisha Abraham is a visual artist who does installation art and mixed media work. Between 2002-2013, she made a series of short digital films crafted out of 8mm found footage that has been exhibited widely. She studied art at the M.S. University, Baroda (BFA, 1987) and Rutgers University, USA (MFA, 1995) and was selected at the Whitney Independent Study Program between 1991-92. She worked as a visual arts consultant at the Srishti Manipal Institute of Art, Design, and Technology, Bangalore from 1997, and has been a member of the artist's collective BAR1 (Bengaluru Artist's Residency), initiated in 2006. Her work has been exhibited extensively in group shows at home and abroad, and her writing has appeared in New Cinema: Journal of Contemporary Cinema (Vol.11) and Mining the Home Movie: Excavations, Histories and Memories, edited by Patricia Zimmermann and Karen Ishizuka, among other publications.