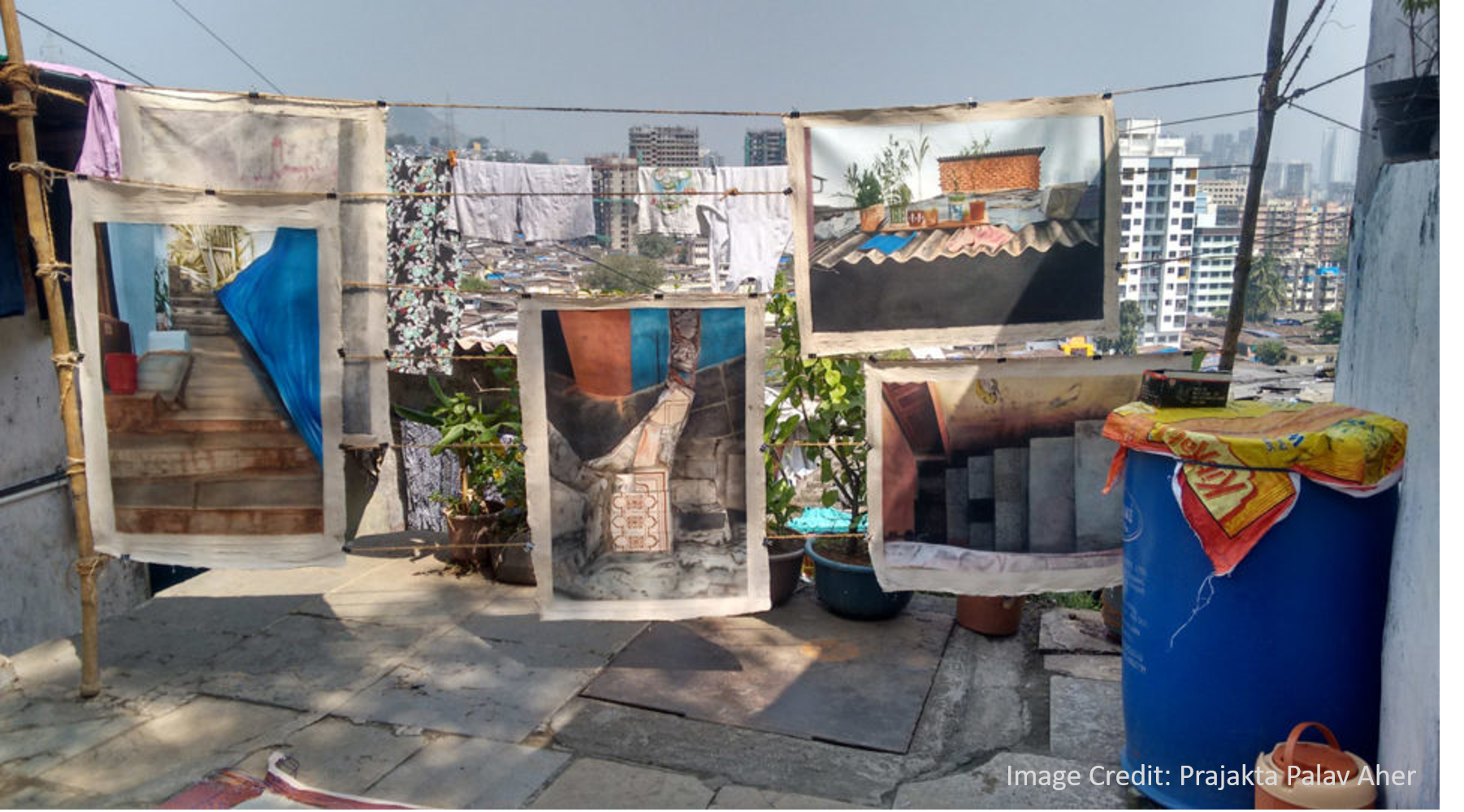 Neighbourhood Chronicles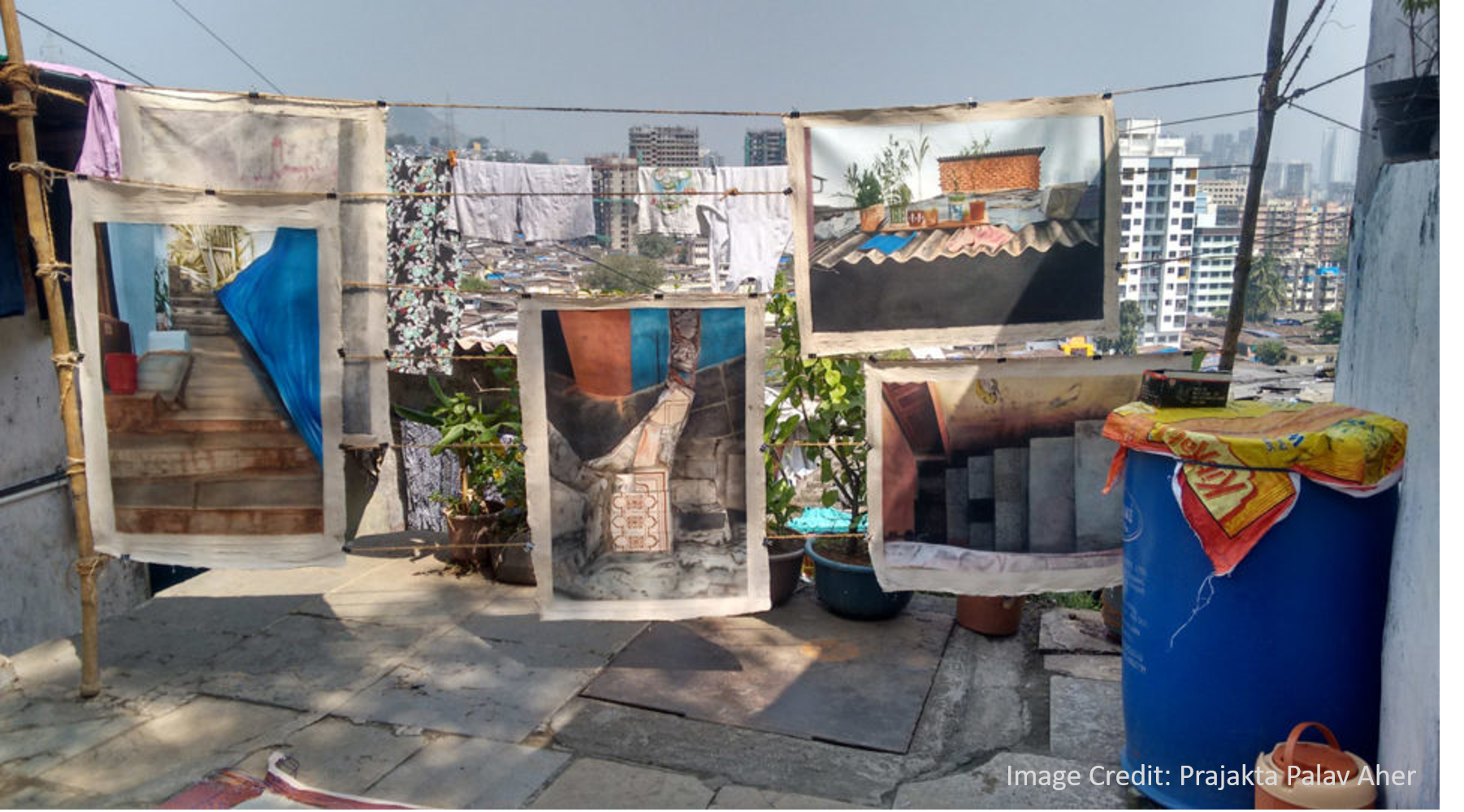 SPEAKER(S)
Prajakta Palav Aher
RESPONDENT
Nikhil Purohit
Konkan Nagar, a vibrant home-grown neighbourhood in Bhandup (Mumbai) and Dhamapur Talav, a lake in Malvan (Sindhudurg) are two sites of neighbourhood engagements that the artist, Prajakta Palav Aher, has been involved with for around a decade. Konkan Nagar evolved from the 1970s when people migrated from the Konkan coast to work in the textile mills of Bombay, and made this hill their home, bringing in their forms of community and cultural life. One of Mumbai's many informal urban villages, Konkan Nagar was developed gradually by the people who live there, usually with little authorized support. Dhamapur Talav was formed through the making of an earth-filled dam in the 16th century by local villagers, and is one of the largest fresh-water lakes that sustains communities and is rich in its bio-diversity. Its design reflects geographical and hydrological understanding of the local climate and soil properties of an earth embankment (recently replaced by concrete), affirming the intimate knowledge of ancient villagers.
Both Konkan Nagar and Dhamapur Talav are examples of innovative and sustainable neighbourhood formations, and the artist was drawn to these sites and its stories given her childhood memories and the connection of these spaces to her origins. Exploring these spaces through walks, treks, conversations with the residents, photography, paintings, projects and workshops with students and children, the artist has built collaborative chronicles that mark the evolution of space, mythology, folklore, and local built environments that are challenged by real estate and urban anxieties.
Connecting with local children through arts-based methods allowed Prajakta an entry to these often-overlooked stories flavoured with nature, indigenous subcultures and records of adaptation to the changing ubiquitous realities of geography. In this talk, Prajakta will speak about how these neighbourhood engagements at Konkan Nagar, Dhamapur Talav and other related work expanded her practice in painting to evolve into immersive community conversations and the value they add to her art-making processes beyond the studio.
The respondent in this conversation is Nikhil Purohit, an artist, arts administrator and founder-director, Fandee.

Join us on November 24, 2023
at 6:00pm IST
Meeting ID: 894 5027 6822 | Passcode: 877061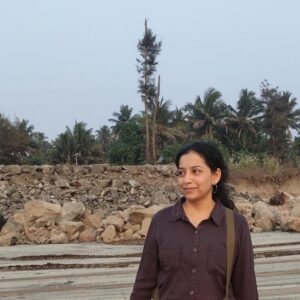 Prajakta Palav Aher (b.1979) works through a visual language that responds to the concerns of the city of her birth, Mumbai. Painting from photographic references that she has collected over time, Aher's canvases bring forth her own anxieties and concerns as a resident of the rapidly changing metropolis. Along with her studio-based practice, she likes to work with children. People around her have always been a subject of her interest, and being a student of portraiture, she has a habit of observing and absorbing intricate details of the experiences she gets. Corners of the home and suburbs of the city attract her, alongside organically grown bastis, gavthans, and villages are subject of her interest. Over the years she has critically investigated the making of her city through migrant labour, class aspirations and their materiality within domestic spaces, the life of the everyday commuter, and her own experiences around motherhood. For over a decade now, her practice has extended beyond the painterly surface to community engagements where she uses pedagogical interventions to learn about otherwise trivial neighbourhoods, focusing on the material relations of space, place, and culture.
Prajakta completed her Bachelor's degree in painting from the Sir J.J. School of Art, Mumbai, in 2000 and her Master's degree in portraiture from the same institute, in 2003, and has participated in a number of solo as well as group exhibitions.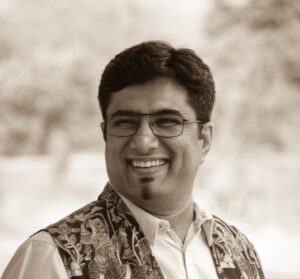 Nikhil Purohit is an artist and arts administrator with interests in art education, pedagogy, art writing, translation, and archival documentation. He is founding director of the initiative Faandee that is dedicated to documenting the arts. As a former associate of the Mohile Parikh Center for the Visual Arts, he has contributed to seminal projects viz. V-IDEO, Geographies of Consumption: Bombay/Mumbai (2015-16) and has led programs at its Children & Culture Forum. He presided as executive editor for The Indian Contemporary Art Journal, Mumbai (2017 – 2020), and has been developing learning methods for students through art history, aesthetics and visual studies at institutions that include Amity University, Mumbai, Sir. J. J. School of Art, National Institute of Fashion Technology, Symbiosis Institute of Design, Sophia College, and SNDT Women's University.  Building a strong viewership as the core value, his recent project co-curated with Lina Vincent at the Bihar Museum "da(r)shak: Ten Years of Printmaking & Viewership" celebrates print barter sustained for a decade by the International Print Exchange Programme India.