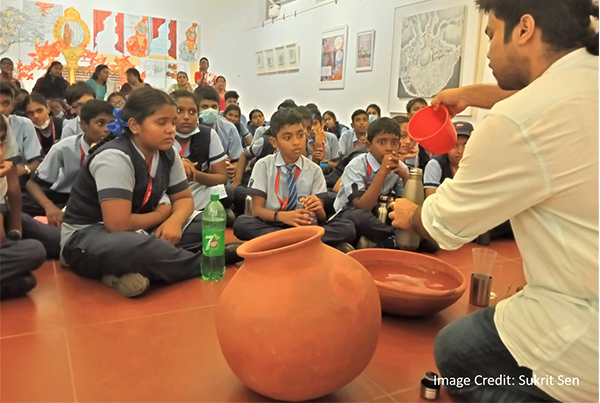 Living Waters Museum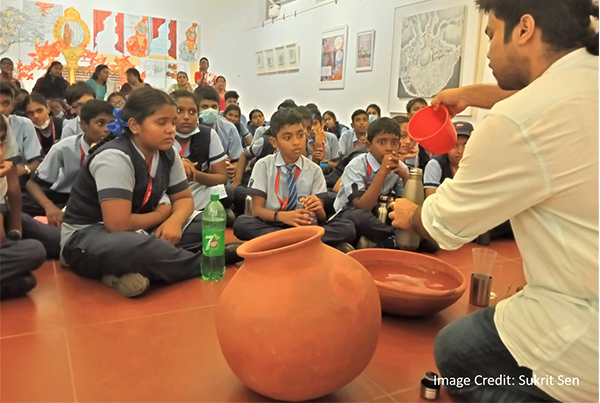 RESPONDENT
Anuradha Pathak
Living Waters Museum (LWM) is a virtual museum which engages youth in visualizing water heritage and re-imagining sustainable, inclusive and equitable water futures. LWM is currently based at the Centre for Water Research at Indian Institute of Science Education and Research IISER-Pune, and is a founding member of the Global Network of Water Museums, endorsed by UNESCO's International Hydrology Program in 2018. Over the last five years, LWM has been working with students and experts from multidisciplinary backgrounds – civil society, schools, academia, and the creative arts – to talk about water from their lens and design and curate digital content and communicate on our diverse water challenges.
Since 2018, Sukrit Sen has been with the Living Waters Museum and has worked extensively in the field of water and music looking at not only songs but exploring water-carrying utensils as instruments and using water as a medium for the propagation of sound waves too. Through his music, he aims to develop innovative approaches towards the conservation of water and the heritage associated with it, especially among children. As a virtual repository, LWM since 2020 has focused on developing urban water chapters and has launched the Mumbai, Pune and Jodhpur chapters. The "Living Waters of Kolkata" or "JolJyanto Kolkata" will be launched this year bringing together every section of society to define the city from a water perspective. Sukrit Sen is currently leading this Kolkata chapter and will present the work of the Museum, his research, and work in Kolkata.
Respondent: Anuradha Pathak (Artist, Designer and Co-director at CASP).

Join us on May 27, 2023
at 6:30pm IST
Meeting ID: 899 0065 2978 | Passcode: 127590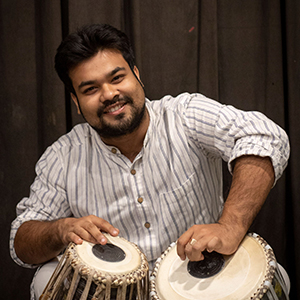 Sukrit Sen is a Heritage and Disaster Management professional during the day and a musician by night. For over two decades, he has been associated with Indian Classical Music and the Bengal folk genre of Padavali Kirtan, collaborating with various artists and performing all around the globe. Primarily trained in the Tabla, he also plays many other folk percussion instruments such as the Srikhol, Morsing Ghatam, Kanjira, Mridangam Djembe, Cajon etc. As a part of his organization, "Living Waters Museum" where he leads the Kolkata chapter, he focuses on water and its association with music for several years now, and has worked with students in India and the US to look at the role of music and creative arts in advocating climate action. He is also associated with other organisations like ICCROM, ICOMOS India and ICORP and his research primarily looks at the role of intangible cultural heritage and traditional knowledge in disaster risk reduction practices in contemporary times.